Sagey
Summary: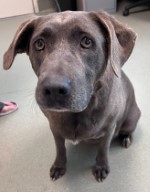 Taken in: 2023-09-27

More detail:

2023-10-25: Everyone has a history, including the dogs we foster. We'll never know what Sagey's life was like before she was rescued from the shelter, but I can tell you a few things about this gorgeous 5 year-old, 74 lbs, girl. For starters, and because I'm big on transparency, let's just say she does have major separation anxiety. She needs time to settle in and reassurance, and did I mention, patience? But she's worth it.

Sagey is the sweetest, most gentle creature. She is great around cats and amazing with toddlers and babies. She is extremely low maintenance and not demanding - she would rather go for her walk and chill on the couch. Also, not food-centric for a Lab, and gentle when you give her a treat.

Her ideal home probably doesn't have dogs - she doesn't like high-energy dogs or puppies. Maybe an older dog would be a good companion, but she'd need a meet and greet first. Cats are totally fine! She likes her own space and having her humans around is a priority. If you are home a lot, have a yard where she can lay in the sun, and want a mild-mannered lady who just wants to hang out and be loved, she's your girl.
---
If you are interested in making this Lab part of your family, please contact your SCLRR family representative. If you have not yet applied with us, please submit an online application to adopt; an SCLRR volunteer will then contact you. Please note that your homecheck must be approved in order for you to be put in touch with the dog's foster home.