Gretta
Summary: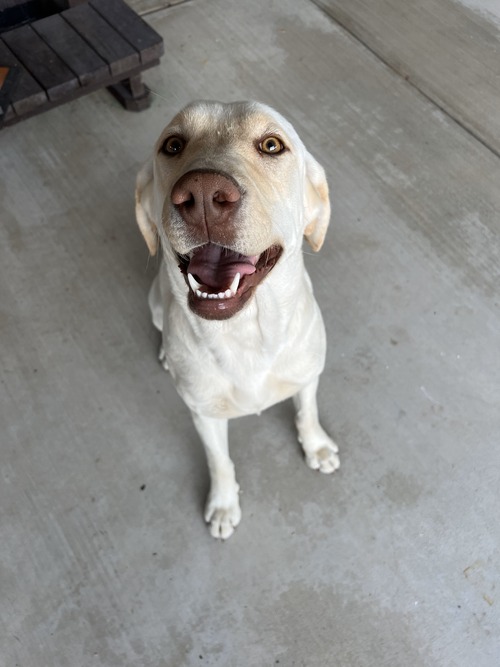 Taken in: 2023-09-07

More detail:

2023-10-25: Hello! My name is Gretta, but my friends call me GG. I am a beautiful yellow, female Labrador, just under a year old with the perfect pink nose and amber eyes. I have been with my foster family for a while now and have had plenty of time to blossom. I came into their home scared with everything being so new. It took me a few days to even walk into the house. I was so scared, I slept outside my first night. My foster mom left the back door open for about a week so I could go about freely when I needed too.

Even though I'm only a year old and had never been in the house, I haven't had even one potty accident and learned pretty quickly the dog door is a pretty cool thing that lets me go outside whenever I want to! My foster mom says I am a really smart little girl! I don't chew on anything, but I do get very bad separation anxiety and will cry for my family. When I get my anxiety, I do tend to re-arrange the house, moving pillows, blankets, shoes, clothes, anything that is left out, I'm going to move it somewhere else, but, to be clear, I don't chew on things.

I have a foster sister who is a chocolate Labrador and we do play, but honestly we mostly sleep all day long together. I do love my sleep and I need at least 15 hours of beauty sleep or more! I do great on a leash when it's time for walks! I get excited when my family comes home and I listen very well when my name is called. I'm still working on sit and stay.

My favorite treats are strawberries, carrots and all the head scratches and belly rubs I can get! I do have a habit of picking up bugs I shouldn't. My foster mom doesn't like the grasshoppers I bring her, but I am so proud of them and it makes me so happy!

I don't mind car rides and I'm getting a lot better at them. Especially when I get to pick up my 3 year old toddler from school! While I do love him very much, I love other kids from a distance because their sudden movements are scary sometimes.

I am sorry, but I'm not crate trained. The confined space makes me really nervous. I do have a dog bed, but in the middle of the night I always sneak up on my foster mom's bed and sleep at her feet. That is my favorite!

I have one quirk with doors. They need to be wide open or I won't walk through the doorway. If someone is standing in the way, I need a wide open space and have to be the last one to walk in. I know, weird, right? Or maybe we could just say I politely let you always go first!

I'm looking for a family who is more on the mellow side, doesn't do too much traveling and home often to give me all the attention and love. If you think you can love me, I will keep your feet warm at night, bring you all the grasshoppers you need, and love you right back.
---
If you are interested in making this Lab part of your family, please contact your SCLRR family representative. If you have not yet applied with us, please submit an online application to adopt; an SCLRR volunteer will then contact you. Please note that your homecheck must be approved in order for you to be put in touch with the dog's foster home.