Sagey
Summary: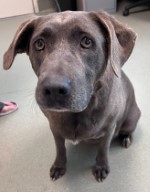 Taken in: 2023-08-16

More detail:

2023-09-13: Hi! My name is Sagey and I am a 5-year-old female silver lab mix. My coat is such a cool, unique color. I currently weigh about 78 pounds but will need help getting to a healthier weight. I was found as a stray, but it is obvious someone took good care of me previously.

I am super mellow and not afraid of anything. I am just the easiest, chill dog. My two favorite things in life are walks and cuddling up to my human. I LOVE going for walks. I can keep up a good pace with my foster family and never pull on leash (even when my foster sister is trying to chase squirrels). In the house I just hang near my people. My foster mom says she has never heard me bark. I only give a little whine sometimes when the family leaves the house without me.

My foster home has kids, another dog, and a cat. I get along with everyone but believe I would prefer to be an only dog. I just don't care to play with other dogs and can get annoyed by energetic dogs. I am completely house trained and very well mannered. I will go in a crate but am also completely trustworthy left with the run of the house. I slept in the crate the first few nights in my foster home, but now I just sleep on a dog bed in the bedroom.

If you are looking for a super chill dog who will settle in quickly, I'm the one for you. I have never met a human who didn't fall in love with me immediately. I am just looking for a simple life as a loyal companion
---
If you are interested in making this Lab part of your family, please contact your SCLRR family representative. If you have not yet applied with us, please submit an online application to adopt; an SCLRR volunteer will then contact you. Please note that your homecheck must be approved in order for you to be put in touch with the dog's foster home.