Welly
Summary: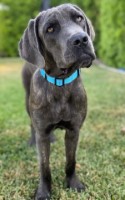 Taken in: 2023-03-24

More detail:

2023-05-19: Welly is a beautiful brindle Lab mix who is between 7-10 months old with striking eyes that will melt your heart. Her past is a sad one - she was severely emaciated and in very poor health when we first got her. She was skin and bones weighing only 34 lbs. But she is a survivor and has turned herself around to become a very fun loving healthy young girl. She is willing to put the sad past behind her and live a great life from now on.

She has gained about 20 lbs in the past weeks however she is not done growing.

She is now just a goofy puppy who needs her forever home and someone to love and care for her for the rest of her life.

Welly is house trained, crate trained, and can easily use a doggie door. It's easy to forget that she is a puppy because she doesn't really have the normal puppy tendencies to chew items or steal shoes etc. She is very food driven so she may chew bark or eat grass outside but nothing out of the ordinary.

Welly is at the perfect stage in her life to easily be trained and learn new house rules while not having to go through normal puppy training. Because she does so well in a crate we believe that Welly can go to almost any home.
This was Welly before coming into rescue.
---
If you are interested in making this Lab part of your family, please contact your SCLRR family representative. If you have not yet applied with us, please submit an online application to adopt; an SCLRR volunteer will then contact you. Please note that your homecheck must be approved in order for you to be put in touch with the dog's foster home.