Weldon
Summary: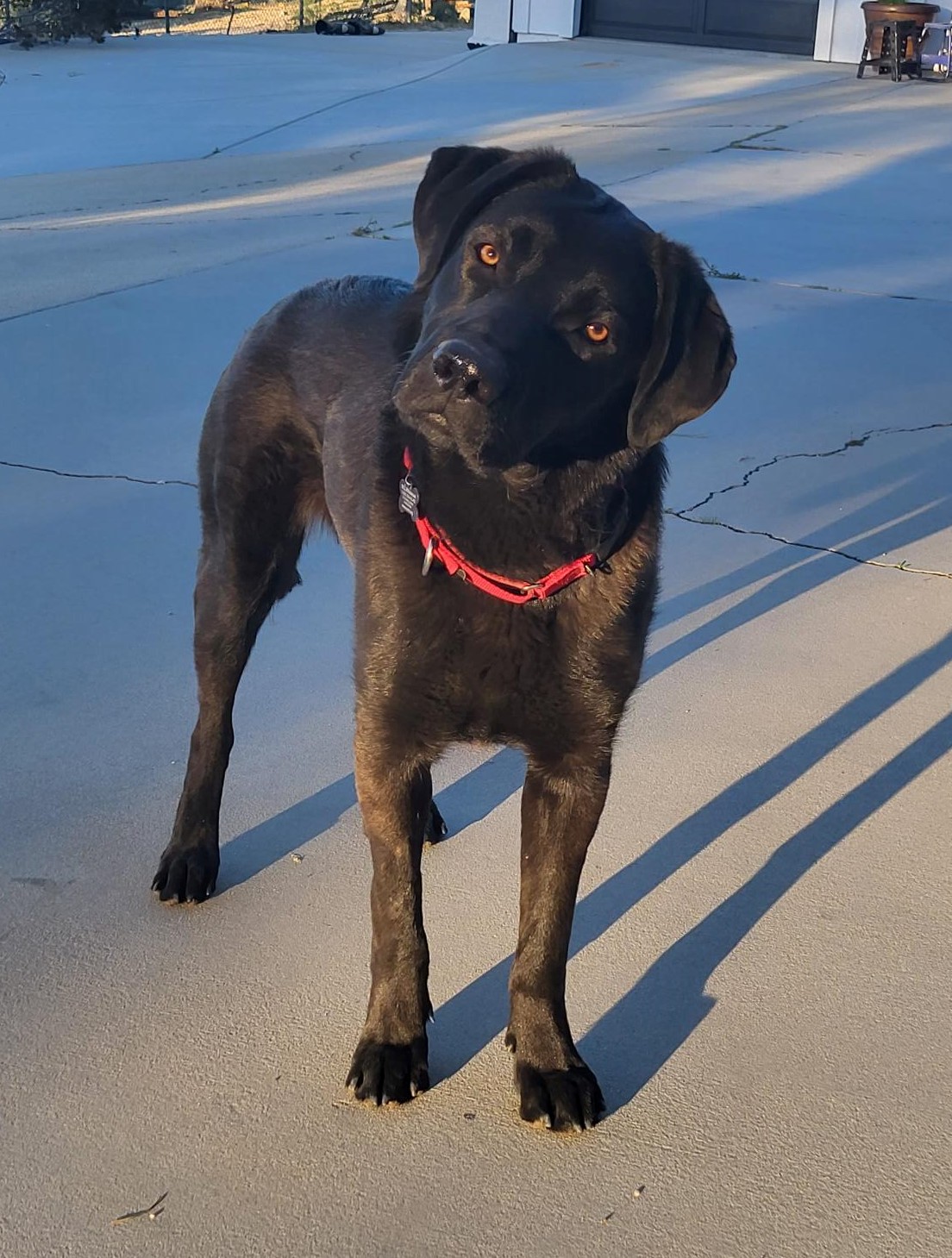 Taken in: 2023-03-18

More detail:

2023-03-27: Meet the handsome Weldon. He is approximately one year old, 80-pound, Lab (possible mix) who is still very much a puppy. He was found running the hills up in Lake Isabella with his brother. The shelter called SCLRR because they were so full and needed to start making tough decisions. He has been with us a couple of weeks and is very healthy and overall easy to manage.

Weldon will need another dog as he tends to follow our dogs to hang out with. He likes to play with our other dogs - mainly our 1-year-old female. He is very social meeting all dogs, little packages to larger dogs. Weldon has shown no signs of separation anxiety. Weldon has been doing well with 3 resident dogs, two cats and two mini donkeys. He has also had one short-term dog visitor, a 10-pound senior dog who does not hesitate to correct big dogs. In our evaluations, Weldon has shown no dog aggression both at the home or on leash in public. He can chew bones with the other dogs around is not overly possessive, etc. We suspect that Weldon would most likely enjoy a dog park and socializing with other dogs.

Weldon is fantastic with our cats, very social, does not chase and wants to groom them. Our cats are comfortable walking around Weldon. Our cats are both indoors and outdoors.

Weldon is not shy meeting people - loves men or women - he is all Lab. He is very friendly with strangers. We think Weldon would find with kids of all ages.

We have tested him for food aggression and he has shown no issues at taking bones etc. Weldon is generally obedient, but sometimes he gets distracted and ignores your commands. He has been going with us on hikes and is amazing off leash! One of the best we have ever had.

Weldon appears housebroken - has had no accidents and sleeps in a crate at night. He has been great in a car for short rides. He loves hanging out in the garage while my husband works on stuff. He will need daily walks, but he is not hyper and settles pretty easily. But being young, he can get bored - so regular exercise is a must. He has not been destructive and looks to chew on his bones when he needs to chew.

Weldon is a good eater, not picky, in fact we feed him in a bowl that slows him down. He has no food aggression and eats loose with our other dogs. Weldon is very good in our kennel or the crate when we leave - very good confinement dog. He is very quiet and overall, he only barks when he sees something or the other dogs bark. Weldon does know the command to stay in his bed. He has been taught stay, wait and a few other commands.

In summary, Weldon needs another dog to play with and regular exercise in the form of walks or runs. He can be placed with cats and/or kids. He needs someone that will continue his training and has patience for a young Labs. Weldon is a great dog who is extremely loyal and loving - he is a lot of fun and would be a great dog to take places. If interested in Weldon, please let you family rep know.
---
If you are interested in making this Lab part of your family, please contact your SCLRR family representative. If you have not yet applied with us, please submit an online application to adopt; an SCLRR volunteer will then contact you. Please note that your homecheck must be approved in order for you to be put in touch with the dog's foster home.