Valencia
Summary: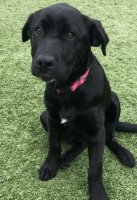 Taken in: 2023-03-08

More detail:

2023-04-06: VALENCIA Hi! My name is Valencia and I am a 4 month old female black lab mix, weighing in at about 30 lbs. My 3 sisters and I were found as strays and are very excited to find our furever homes! I am currently in a foster home with my sister, Palma.

I am a little more reserved than my sister, but warm up very quickly. My foster mom calls me a wiggle butt and says I am just so sweet and loving. I love to play, wrestle, get belly rubs, and chase balls. I like to follow my sister around and annoy my foster sister. We have had so many visitors come by to say "Hi" and I just love all the attention

My foster home has kids, another dog, and a cat. I get along great with everyone. I am a little too interested in the cat, but not aggressive as all. I would love a home where everyone isn't gone all day. Another dog in the home would be a great too.

I am still very much a puppy! I am working on getting house trained and walking properly on a leash. I LOVE going for walks. I also really like chewing on things. I correct easily though and am eager to please. I have been known to greet people with a little jump. I am just so excited to meet people! I do settle down nicely too. My ideal family will be up for the challenge of training me, provide plenty of toys and socialization, and give me lots of cuddles. I am still too young to be spayed, so you will have to do it later when I get a little older.

If you are looking for a sweet, affectionate, slightly reserved best friend, I am your gal!
---
If you are interested in making this Lab part of your family, please contact your SCLRR family representative. If you have not yet applied with us, please submit an online application to adopt; an SCLRR volunteer will then contact you. Please note that your homecheck must be approved in order for you to be put in touch with the dog's foster home.