Kaze
Summary: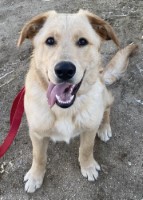 Taken in: 2023-03-04

More detail:

2023-03-24: Hi there! My name is Kaze, and I'm an 11 month old Labrador mix (possible with Golden Retriever). I weigh 58 lbs. My foster mom says there are so many great things about me, she doesn't know where to start...

I am a smart, gentle, sweet, friendly, happy guy who loves to be with his people...I get along with big dogs, little dogs, kids, and cats...I am living with my foster family on a small ranch with goats, sheep, bunnies, and chickens... I love them too! They are so interesting, sometimes I lay against their pens just to be around them. When they are out running around, I want to run with them too! But my mama tells me no, and I always listen because I'm a good boy.

I like to show off for my foster mom with my stick and ball catching talents! I could play all day! I love the water too, although I'm still getting the hang of swimming...

Inside the house, I am a gentleman for the most part...Housebroken and crate trained? That's me!! I love to lay down by your feet and enjoy a good chew toy as well...However, since I am still a puppy, I also enjoy counter surfing, stealing socks, and sneaking naps on the couch...I try to remember these are no no's, but sometimes I need a gentle reminder. I don't like getting in trouble and always want to do the right thing.

Ideally, I will need a home with another active dog...I am good with dogs of all ages, but foster mom says I might drive a senior dog crazy with my youthful shenanigans...I play hard and need a lot of activity: walks, hiking, and beach trips are my favorites!! I am a healthy happy puppy. with lots of energy.

If you think I am the right guy for you, please send in your application!!!
---
If you are interested in making this Lab part of your family, please contact your SCLRR family representative. If you have not yet applied with us, please submit an online application to adopt; an SCLRR volunteer will then contact you. Please note that your homecheck must be approved in order for you to be put in touch with the dog's foster home.