Kate Kay
Summary: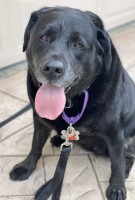 Taken in: 2023-01-06

More detail:

2023-03-11:Hi! My name is Kate Kay, I am a 7 yo female Lab. I weigh 85 lbs. My sister Delilah Kay and I lived with our owner until recently when she was no longer able to take care of us. I am a sweet, easy going, lovey girl.

I came into SCLRR with some extra pounds, but I have already started getting my girlish figure back. I still need some help getting to my healthy weight which is especially important for me because I have some arthritis in my hips.

I love to get pets and take naps, my favorite place is laying outside in the sun. My other favorite thing to do is sit on my sister-and she lets me ! I like all the humans and dogs that I have met, but I am not much for toys. I have never met any cats, but I would probably be OK with them.

Foster Mom says I'm smart and easy to train, I can sit, wait, come, and go up and down a ramp to get in and out of the car. I worked with a trainer to learn how to walk on a leash, something I had never done until now. The trainer says I get an A+! I am house trained and I haven't chewed anything in the house that I'm not supposed to. I'm pretty low energy, but I will chase my sister when she is playing with a toy.

I have had allergies for a long time which has caused some scarring in my ears and under my chin. I need to take medicines for the rest of my life to keep this under control. Foster Mom does ear washes and puts ointment in my ears, I don't like it, but I hold really still for it. She says I am super easy and cooperative. I had a problem with my liver tests in the past, but that is better with switching my arthritis medicine and taking liver supplements and vitamins. Since I need so many medicines and supplements, foster mom says you should know that everything I need will cost about $350 a month - but I'm so sweet I'm worth it!

Delilah and I have been together since we were born- so we insist on being adopted together.

If you would like to make these easy bonded tubs of love part of your family, please contact your family rep.
---
If you are interested in making this Lab part of your family, please contact your SCLRR family representative. If you have not yet applied with us, please submit an online application to adopt; an SCLRR volunteer will then contact you. Please note that your homecheck must be approved in order for you to be put in touch with the dog's foster home.