Maxxwell
Summary: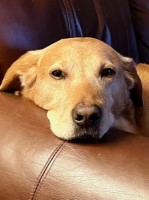 Taken in: 2022-12-02
More detail:
2023-01-13: Let me introduce you to our beautiful boy, Maxwell! Weighing in at a perfect 80 lbs and sporting a thick, reddish coat, 11 year old Maxxwell is a mellow boy who loves people and other dogs.
Maxxwell comes to us from a shelter as an owner turn in. His family was moving and sadly Maxxwell wasn't part of the plan. While with his family though, we do feel he was loved and cared for. Our Vet actually felt he might be more like 8-10 based on his demeanor and how healthy he is!
Maxxwell is house trained, uses the doggy door like a champ and is perfect on walks! No pulling with this boy! He is very playful and enjoys his squeaky toys. He is perfect in the car, although he may need a ramp as his back legs aren't as strong as they used to be. Maxx just wants to be with his people and will follow along with them everywhere. He really just wants to be part of the family!
Maxxwell has mentioned that he would prefer not to live with a cat and the cats agree! He really isn't a fan and will bark and chase them.
If you are looking for a best friend and companion for walks on the beach or the neighborhood, a gentle game of fetch and you, too, like squeaky toys, he would love to meet you! Maxxwell will be happiest with someone who is home most of the day to give him all the love he deserves.
If you are Maxxwell's person, please contact your family rep. Maxxwell will be safe and sound happily waiting for you.
---
If you are interested in making this Lab part of your family, please contact your SCLRR family representative. If you have not yet applied with us, please submit an online application to adopt; an SCLRR volunteer will then contact you. Please note that your homecheck must be approved in order for you to be put in touch with
the dog's foster home.