Hershey Boy 10
Summary: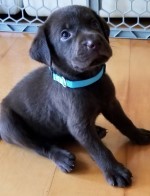 Taken in: 2022-07-21
More detail:
2022-08-02:
AVAILABLE SOON!
Hello chocolate lab lovers!! My name is Hershey Boy 10, and I'm a 6 week old male lab puppy looking for my forever home! I'm available to go home when I'm 8 weeks old on 8/9/22. My littermates and I were turned into SCLRR because our previous owner said she didn't have the means to care for us.
I'm at my foster family right now having tons of fun and learning how to be a good puppy. My typical day is wake up, eat, play, nap, repeat. I need an active family because I have a lot of puppy energy, but I settle down quickly after short play sessions. My foster mama says there are 3 must-haves when it comes to my forever family:
1. Someone home during the day or part of the day
2. A family with prior puppy experience
3. A family who will continue my training to help me be the best puppy I can be!
She says having another doggie in the home to keep me company and mentor me is a bonus! I love everyone I meet. I think everyone I've met loves me too – who can resist this adorable face and puppy breath? But with the cuteness comes a lot of work. I need a family who understands that I'm teething and will chew things I'm not supposed to. That I'm only 6 weeks old and need continued potty training. That I'm a happy puppy who loves people and will try to jump on them to give kisses. I hope to find a family who can stick by me during my puppy phase. Please contact your family rep if you'd like to meet me!
---
If you are interested in making this Lab part of your family, please contact your SCLRR family representative. If you have not yet applied with us, please submit an online application to adopt; an SCLRR volunteer will then contact you. Please note that your homecheck must be approved in order for you to be put in touch with
the dog's foster home.