Jake Roy
Summary: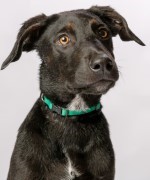 Taken in: 2022-05-05
More detail:
2022-05-18: Jake Roy is 11 weeks old and a really good boy!
Since arriving into our home few weeks ago, Jake has grown, put on some needed pounds, socialized with many humans and other dogs, and is learning the rules of the house. After his sister was adopted, Jake has become a lot calmer, more focused and just enjoys following his foster brother and foster mom around the house.
With his affectionate and gentle nature, Jake loves to please. And for this reason, training is fun for both him and his foster parent. You can see from the uploaded videos that he is getting the hang of 'sit', 'down', 'stay' and 'up' in just a few days.
He likes to follow his foster brother around and tries to play with him but he can also entertain himself just fine with chew toys as well, as long as his humans are within sight.
Jake Roy is neutered, has his vaccinations (will need few boosters and Rabies vaccine later) and is microchipped. He is ready to meet his family who will give him the love and attention he needs to thrive and grow into the confident and loyal companion that he will be.
He is on a regular eating and nap schedule so he is pretty predictable about when he needs to do his business. He also sleeps through the night in his crate with no accidents.
Interested families please contact your family rep. Jake is looking forward to meeting you!
---
If you are interested in making this Lab part of your family, please contact your SCLRR family representative. If you have not yet applied with us, please submit an online application to adopt; an SCLRR volunteer will then contact you. Please note that your homecheck must be approved in order for you to be put in touch with
the dog's foster home.