Bubblegum
Summary: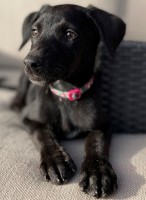 Taken in: 2022-05-05
More detail:
2022-05-10: Once in a while, SCLRR receives pleas to take puppies. A litter of four neglected and malnourished 8-week old puppies ended up at an overcrowded and noisy shelter, helpless and terrified. They could not get the individual care and attention they desperately needed and one of our volunteers quickly got them out of that scary place and into foster homes so that these cute puppies can have a chance for a better life.
In a few short days, with regular nutritious meals and a quiet home to decompress, these resilient pups have become trusting and super affectionate and their personalities are shining through.
Bubblegum is a 9-pound mild mannered girl who just loves to be cuddled. Being the smallest of the litter and the only girl, she likes to follow her brother around and tires to copy everything he does. They even carry long sticks together and walk in tandem. At other times, she prefers to sit and watch everything that is going on at a distance.
She feels most secure and relaxed when she is cuddling with her humans or with her foster lab brother.
She is pretty good natured. If her brother wants a toy she is playing with, she will let him have it. She is not very vocal and will only bark when she wants to be let out of the crate.
She is learning house rules and likes to be occupied with chew toys. She has not met any children yet but should be good with them.
She is underweight and needs to put on a few pounds but she is engaged and active like a puppy should be.
She has shared space with cats for a few hours and has shown no reaction.
She is a gentle soul but she will need continued socialization and structured training/obedient classes.
Bubblegum is spayed, has her first set of vaccinations (need boosters and rabies shot when she is old enough), and is microchipped. She is ready to meet her family who will give her the love and attention she needs to thrive and grow into the loving and loyal companion that she will be.
Interested families please contact your family rep. Bubblegum is can't wait to be a part of your family!
---
If you are interested in making this Lab part of your family, please contact your SCLRR family representative. If you have not yet applied with us, please submit an online application to adopt; an SCLRR volunteer will then contact you. Please note that your homecheck must be approved in order for you to be put in touch with
the dog's foster home.