Coffee
Summary: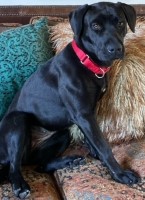 Taken in: 2022-05-05
More detail:
2022-05-10: Coffee (we call her Sissy) is a sassy petite 18-month-old Lab mix who weighs 50 pounds and loves to get her exercise. She does incredible zoomies of the biggest kind. A yard or grassy park would be heaven for Sissy, to let loose. She likes to chase a ball but would rather celebrate than bring it back.
She is good on a leash and has a great time on long walks with her foster brothers. Sissy has made friends with the felines of the house but would likely do well in a single dog home as her confidence can be a bit much for her foster brothers. She likes to be the boss! Sissy has not spent any time with kids but we believe she would do best with older children.
Sissy likes to ride in the car, settles immediately to watch the scenery go by and waits patiently as we do our errands. She knows to do her potties outside on her walks and loves to play with stuffies and chewers. Busy mouths are happy mouths!
Sissy is a medium-high energy dog who absolutely needs her playtime and exercise but does also get comfy and settles down and will lay at your feet if working at a desk or nap beside you. She is a good eater, waits her turn and knows how to sit. She will be a fun, loyal companion who wants to be with you and is anxious to please.
If you are interested in giving her a forever home, please contact your Family Rep.
---
If you are interested in making this Lab part of your family, please contact your SCLRR family representative. If you have not yet applied with us, please submit an online application to adopt; an SCLRR volunteer will then contact you. Please note that your homecheck must be approved in order for you to be put in touch with
the dog's foster home.