Molly Joy
Summary: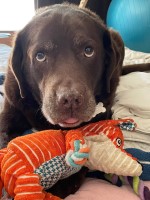 Taken in: 2022-02-11
More detail:
2022-04-01: Hi everyone! I'm Molly Joy, but my foster parents call me Dolly, because I'm such a sweet girl. Well, I'm really a lady, because I'm 11 yr old, but I'm young at heart. I still have plenty of energy to run around the yard, go for walks and play tug-of-war with my favorite rope toy. I can also run up and down some stairs, but it's not really a good idea for me to have too many stairs.
I was probably the biggest puppy in my litter, because I'm a solid 85 pounds – my foster parents say I'm a gentle giant and so much fun to be around. If I could give you a hug I would, but instead I wag my tail, A LOT. And I'm so chill, they've never heard my bark, not once! I am vocal though, and let out big happy yowls.
I have the warmest brown eyes, a dazzling smile, and beautiful chocolate coat that I love getting brushed. And I'm the friendliest girl in the world. I'm cool, calm, collected in a group of people, and enthusiastically greet (and sometimes, ignore), other dogs on my walk. Sorry if you have cats, I think they're toys and give chase, so it is best for me to not live with any felines.
So, are you ready for me? I'm the best girl, ready to live my best life with a family that is truly experienced with the energy, enthusiasm, food obsession and 100% love that make us Labs the most wonderful dogs in the world.
---
If you are interested in making this Lab part of your family, please contact your SCLRR family representative. If you have not yet applied with us, please submit an online application to adopt; an SCLRR volunteer will then contact you. Please note that your homecheck must be approved in order for you to be put in touch with
the dog's foster home.