Peach
Summary: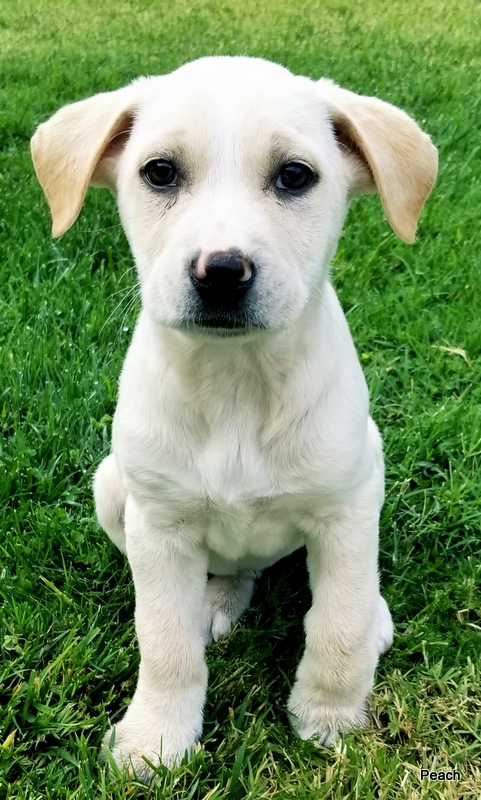 Taken in: 2021-05-26
More detail:
2021-05-30:
Hello families!! My name is Peach, and I'm an 8 week old female lab mix puppy who's looking for my forever home! My brother Yoshy and I came to SCLRR from a local shelter and we were part of a litter of 11 puppies.
I have been hanging out at my foster home, learning how to be a good puppy citizen. I started house training and crate training. I have two human foster siblings, ages 7 and 9, and I love hanging out with them. They like to run around, play games and chase each other, which is exactly what I like doing! My foster mama seems really pleased with that, she said something about us all wearing each other out, which is apparently a very good thing.
My typical day is wake up, eat, play, nap, play some more, nap some more, repeat. I like running around with Yoshy, so it'd be nice if my forever home has another doggie that I can follow around and learn from. My foster mama says I'm pretty mellow and that I'm a super sweet girl with the perfect medium energy. I love my humans and I'm a cuddle bug, which is my foster mama's favorite thing about me. I'm also a star when it comes to bath time, nail trims and even with her wiping my paws down!
Although I charm everyone with my adorable face and puppy antics, my foster mama says it's super important that my forever family has puppy experience. At this stage I love playing and exploring everything around me. I hope to find a family who can stick by me during my puppy phase and teach me good manners. In return, I'll be the most loving and loyal companion! If you think you're up for this challenge, please contact your family rep because I'd love to meet you!
---
If you are interested in making this Lab part of your family, please contact your SCLRR family representative. If you have not yet applied with us, please submit an online application to adopt; an SCLRR volunteer will then contact you. Please note that your homecheck must be approved in order for you to be put in touch with
the dog's foster home.