Smokey Joy
Summary: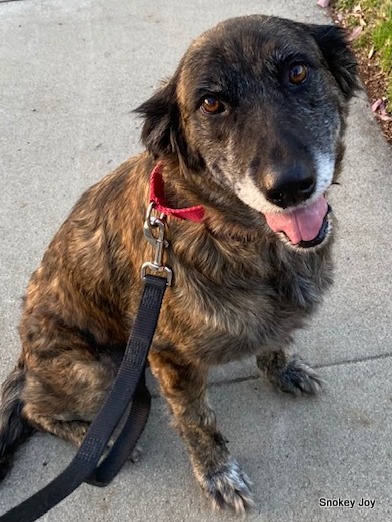 Taken in: 2021-04-20
More detail:
2021-06-29: Looking for a hiking pal? Study buddy? Cuddle companion? I'm your gal! My name is Smokey Joy and I am an 11 years young female Lab, possible Shepard mix. I am in great shape for my age and can still go for long walks and even short hikes. I am the easiest, sweetest dog ever! (Seriously – that's what all the fosters say about me) – I double dog dare you to meet me-you will fall in love-I promise!
I walk great on a leash, I know sit, lay down, go, come and stay. Foster Mom says I am a really good listener! I am also really good at giving love and snuggling. I don't know how to play very well, but I am learning.
I used to live with 2 other labs in a not great situation. I was underweight and had yeast all over my skin, lost a lot of hair, and had ear infections. SCLRR got me all spiffed up and I look great now in my beautiful brindle coat! I also got spayed and had a dental cleaning. I am a little shy about meeting new dogs. I just hide behind foster Mom's legs, I'm not reactive at all. Once I get to know them (10 minutes) – it is all good. I have lived with 5 different dogs in my foster homes. I met a kitty too and I was friendly and gave her a kiss then went on with my day.
So what is the best home for me? Since I'm a senior (I don't feel like one) I should take supplements and a one story house would be preferred, but I can do stairs if needed too. I love all humans and can't wait to love and be loved by you (be careful-I might stick like Velcro-but just a little! )
If you are ready to be loved and have your home filled with sweetness and a silly smile, please contact your Family Rep.
---
If you are interested in making this Lab part of your family, please contact your SCLRR family representative. If you have not yet applied with us, please submit an online application to adopt; an SCLRR volunteer will then contact you. Please note that your homecheck must be approved in order for you to be put in touch with
the dog's foster home.