Lily Beth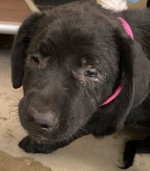 2022-09-16: Meet Lily Beth, this sweet 4-month puppy with big problems. Somehow, she ended in the shelter several days ago with lots of wounds all over her body. Not sure what happened but it is suspected some vicious human abuse. Lots of open long and punctured wounds all over her little body.
The shelter called to ask us if we can take her into rescue. Our wonderful volunteers rushed there to pick her up and took Lily Beth straight to the ER. She doesn't look good, the vet said they are multiple several open wounds that require stitches and she is in a whole lot of pain. Her entire face is so swollen that she can barely open her eyes. She is quite lethargic too but thankfully she tested negative for parvo.
The great team at Access Hospital took Lily Beth in immediately so they could address her injuries. They want to keep her under observation overnight and they are not even sure she will make it. If she does, she has a long journey toward healing ahead.
Will you partner with us to get Lily Beth on the road to full recovery? The estimate for today's care and overnight is up to $4500 and she'll require follow-up care as well.
Can you donate a little bit to SCLRR to help offset Lily Beth's expenses?
Ways to donate:
Website: https://www.sclrr.org/rescue/donate-now/
Venmo: @SCLRR-SoCalLabRescue, last 4 digits 3263
Paypal: sclrr@sclrr.org
Check in the mail: SCLRR – 24325 Crenshaw Blvd.#137, Torrance, CA 90505
Thank you in advance for helping her. We will keep you updated on her progress… hopefully it's all good news from today forward!
---
Please help support this Lab's recovery by making a contribution in her name to our Polly Memorial Fund. SCLRR started the Polly Fund as a separate fund devoted exclusively toward providing for the unexpected medical expenses of our foster dogs. Your financial support is essential in providing these deserving Labs with a second chance at life with a loving family. The Polly Memorial Fund is dependent on your donations. We are a federally recognized non-profit tax exempt group. Any donations to us, whether to SCLRR or to SCLRR's Polly Fund, are tax deductible.