Smokey Joy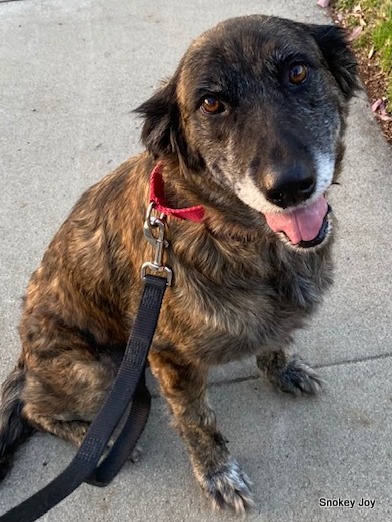 2021-06-07: We found Smokey Joy at a local shelter with her Lab brother Freddy Joy, both at 11 years old. We could not take just Freddy Joy out of the shelter and leave Smokey behind, so we took her as an honorary Lab too. Glad we did as she really needed our help. She was very skinny, had yeast infections all over her body, missing hair, broken teeth, and ear infections. We treated all of that, did blood work, she had a dental with 16 extractions and she is feeling better already.
During a routine checkup, the vet noticed she has multiple small masses around her mammary chain. She needs to have the lower part of the mammary chain (2+2) removed plus a lumpectomy from the upper part, a total of 5 masses. They don't know if they are cancerous, chances are 50-50. We are hoping they are benign, of course. Tomorrow, she is scheduled for surgery with the best oncologist surgeon we know – Dr. Donner at Blue Pearl. She helped us with so many dogs in the past.
The estimate for this surgery after our discount is around $4,700.00.
Smokey Joy is a very sweet girl that deserves a chance to a better life. So we really want to help her. Can you please help us help her?
Ways to donate:
Venmo: @SCLRR-SoCalLabRescue
Website: https://www.sclrr.org/rescue/donate-now/
Paypal: sclrr@sclrr.org
Check in the mail: SCLRR – 24325 Crenshaw Blvd.#137, Torrance, CA 90505
We are so grateful for your support. Thank you!!!
---
Please help support this senior Lab's recovery by making a contribution in her name to our Senior Lab Rescue Program Fund. SCLRR started this fund as a resource devoted exclusively toward the rescue, rehabilitation and unexpected medical care of our older foster dogs. Your financial support is essential in providing these deserving Labs with a second chance at life with a loving family. The Senior Lab Rescue Program Fund is dependent on your donations. We are a federally recognized non-profit tax exempt group. Any donations to us, whether to SCLRR or to SCLRR'S Senior Lab Rescue Program Fund, are tax deductible.