Boo Bear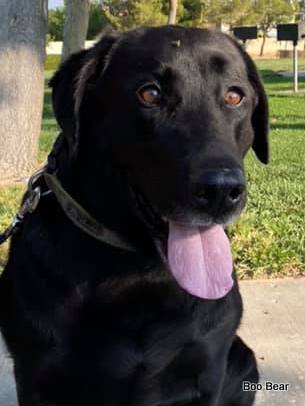 2020-11-17: Hi friends,
We're writing today to enlist your help with a handsome 10 year-old foster boy that desperately needs medical intervention. Boo Bear came to us a month ago when his owner turned him in because she couldn't keep up with his care. He was so VERY confused and SAD for a while, but soon came to love his foster mom and foster sister and is now as happy as ever.
Boo Bear has several masses in his groin area, sadly one of them is on the skin around his penis. The doctor is sure it's cancer, but unsure of the type. While this is very concerning to us, today he saw a terrific oncologist surgeon (Dr. Donner at Blue Pearl) that performed X-rays, an ultrasound, a fine needle aspiration, and cytology on one of the masses.
Because it's cancer, no one wants to wait and his surgery will be on Wednesday. The cost for the preliminary tests today was $1367.20. The estimate for the surgery on Wednesday is $5000.00.
The cost is high, but all our volunteers agree Boo Bear is worth it. He fills his days giving snuggles and kisses to his foster family. It's as if he knows they are his angels and he wants to show them how grateful he is with whatever time he has left.
Will you help us extend that time? Any little bit you give to SCLRR will offset Boo Bears expenses. It's only through your generosity that SCLRR can help dogs like him. Where most people see an old dog with issues as a liability, SCLRR (and you, our donors) see the possibility and potential of a life preserved, a life filled with ball throwing, snuggles on the couch, cozy evenings of lounging in a comfy bed and happy walks around the block.
Donate to Boo Bear's care – visit SCLRR.org to donate through PayPal or mail a donation to us at SCLRR – 24325 Crenshaw Blvd #137, Torrance, CA 90505.
Thank you in advance for your investment in this sweet, sweet boy's life. His new family at SCLRR will keep you updated on his progress… hopefully it's all good news from today forward!
---
Please help support this senior Lab's recovery by making a contribution in his name to our Senior Lab Rescue Program Fund. SCLRR started this fund as a resource devoted exclusively toward the rescue, rehabilitation and unexpected medical care of our older foster dogs. Your financial support is essential in providing these deserving Labs with a second chance at life with a loving family. The Senior Lab Rescue Program Fund is dependent on your donations. We are a federally recognized non-profit tax exempt group. Any donations to us, whether to SCLRR or to SCLRR'S Senior Lab Rescue Program Fund, are tax deductible.