Adam K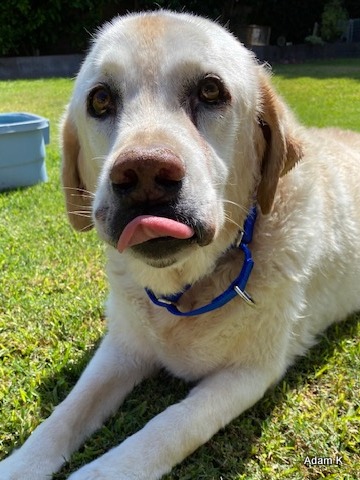 2020-11-06: Hi I'm Adam K, a 12 yr. old boy. I understand that most people are reluctant to take older dogs. We do have more medical bills and we aren't as playful as the young guys… but if it's love you are looking for, we seniors are the best.
Luckily my friends at SCLRR know this. So, they accepted me into rescue when I was in a time of need as my owners were moving.
I have been with SCLRR since September. At first I was having some trouble walking because I was terribly overweight at 120 lbs. But since then, we worked on a diet, some short walks and I am proud to say I already lost some weight. They put me on anti-inflammatory medicine, probiotics, and joint supplements. To tell the truth, I'm already feeling much better because my foster mom is spoiling me rotten and I LOVE every bit of it.
Today I went in for a dental cleaning, had 4 teeth extracted and several growths removed. One of the growths was in a bad area and it was very ugly too so I am glad I got rid of that. I will also need a follow up surgery later on as I have several other fatty lumps on my belly and will need an entropion surgery.
The cost for today's surgery alone was over $1500. Add this to my previous care for pre-surgery exams and blood work. Plus I will need another surgery later.
Can you donate a little bit to SCLRR to help offset my expenses? It's only through the donation of friends like you that SCLRR can rescue other dogs like me and give them the life they deserve.
We are grateful for your support. So, please give today on SCLRR.org to donate through PayPal or mail a donation to us at SCLRR – 24325 Crenshaw Blvd #137, Torrance, CA 90505.
---
Please help support this senior Lab's recovery by making a contribution in his name to our Senior Lab Rescue Program Fund. SCLRR started this fund as a resource devoted exclusively toward the rescue, rehabilitation and unexpected medical care of our older foster dogs. Your financial support is essential in providing these deserving Labs with a second chance at life with a loving family. The Senior Lab Rescue Program Fund is dependent on your donations. We are a federally recognized non-profit tax exempt group. Any donations to us, whether to SCLRR or to SCLRR'S Senior Lab Rescue Program Fund, are tax deductible.