Benn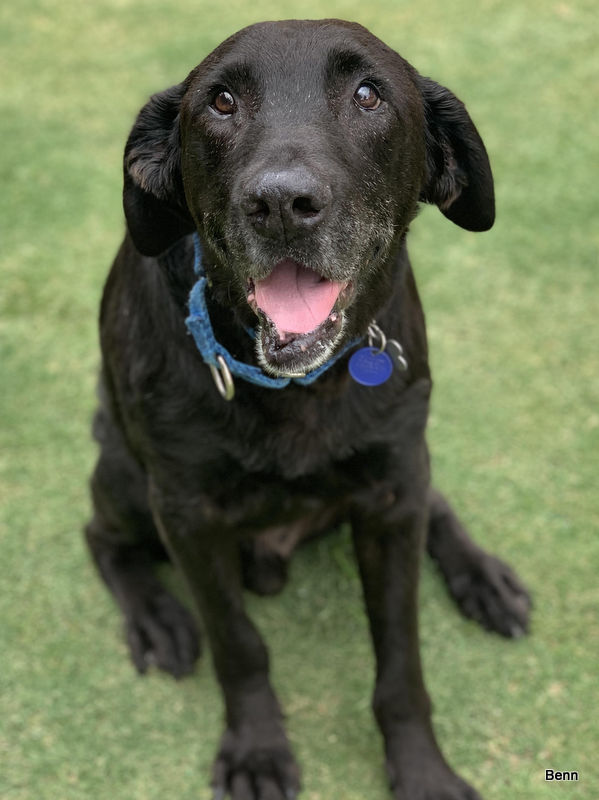 2020-08-08: When it rains, it pours…that's the way it's worked for us lately with senior dogs.
Meet Benn, a recently rescued 8-year-old male. SCLRR graciously took him in knowing he had some medical issues. We started by doing blood work and he needed thyroid meds. His teeth were in terrible shape so he had 16 teeth removed – 2 bottom canines, 12 incisors, and 2 molars. Poor guy was in so much pain. He had severe ear infections, eye infections as well, and skin allergies.
More recently his foster mom noticed that he was limping a lot when getting up or moving. After evaluation, the Dr. says it's clear that Benn has torn cruciate ligaments in his hind left leg. That estimate for this surgery is $3,078.81 (after a generous discount). His foster mom didn't hesitate and scheduled for surgery for August 10th.
So, here is where you come in. Can you donate a little bit to SCLRR to help offset Benn's vet bills? Many rescues shy away from older dogs, especially those ones with medical issues… but at SCLRR we don't! And we are hoping you don't either. If we all donate a little, it adds up quickly. So, please give today.
Thank you in advance for partnering with us. Benn's loving foster mom will keep us updated on his progress as he begins a new pain free life!
---
Please help support this senior Lab's recovery by making a contribution in his name to our Senior Lab Rescue Program Fund. SCLRR started this fund as a resource devoted exclusively toward the rescue, rehabilitation and unexpected medical care of our older foster dogs. Your financial support is essential in providing these deserving Labs with a second chance at life with a loving family. The Senior Lab Rescue Program Fund is dependent on your donations. We are a federally recognized non-profit tax exempt group. Any donations to us, whether to SCLRR or to SCLRR'S Senior Lab Rescue Program Fund, are tax deductible.