Benson Guy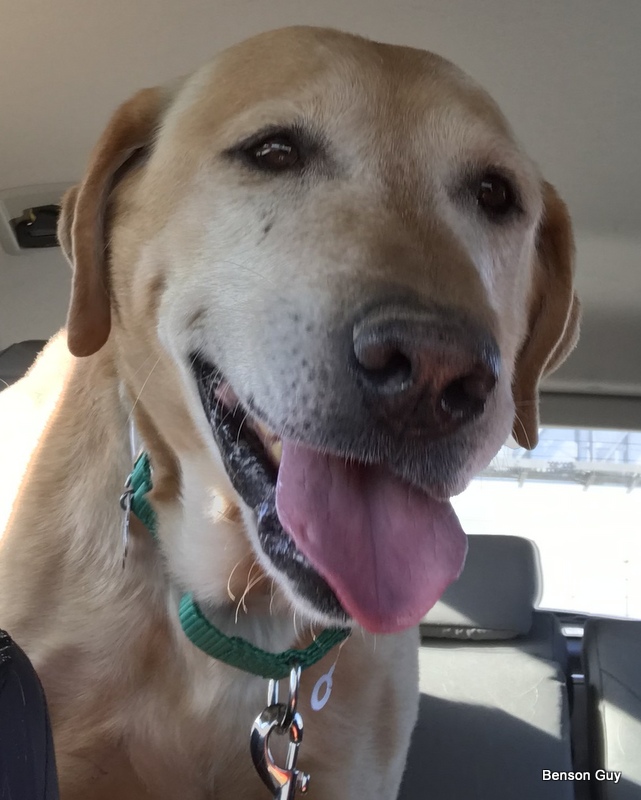 2018-12-16: Hi, my name is 'Old Man' Benson, and this afternoon I was freed from the Palmdale shelter. I'm about 10 yrs old, and the shelter staff say I'm a sweet gentle soul. To make a long story short, I was found wandering in the Palmdale area in late November and have been at the shelter ever since. I have a chip, but my previous owners never came to get me, I'm so lonely and confused. I'm emaciated and have some severe health issues – so nobody wanted to adopt me. Thankfully, SCLRR came to my rescue and found me a warm and cozy foster home. I am so grateful for that!!!
I have quite a long list of medical issues, the most serious being a bit embarrassing. I have a mass inside my rectum which makes me squat/bleed constantly. SCLRR hopes this can be removed. In addition, I have Kennel Cough, ulcers on 3 of my paws, I need to be neutered, will have a senior panel of blood taken, and dental work! Woosh! I need a complete makeover! SCLRR estimates my medical expenses to be no less than $3,000.
Can you help? SCLRR is a 501(c)(3) non-profit and helping to care for me will make a nice tax deductible donation at the end of the year, and will also help me get the medical care I need. I'm told SCLRR has a long history of caring for seniors with medical issues – they have several seniors in hospice foster homes, and have many adopters that have a special love for seniors, which are not often adoptable. With your help, I can get the medical care I need for the holidays… and a happy, loving home eventually. I thank you in advance and I look forward to the volunteers updating you on my progress.
Love,
'Old Man' Benson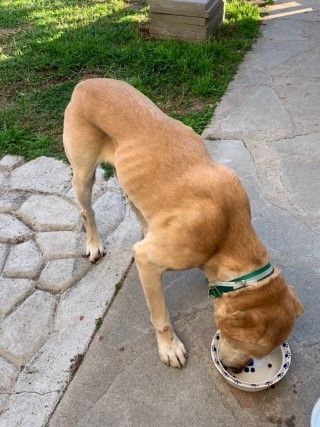 2018-12-19 Benson is doing well at his foster home and enjoying going out for walks with his foster brother and sister or just hanging out. He loves his meals and since he needs to gain some weight he is eating 3 times a day. As a true lab, he really LOVES his meals.
We have not been able to find a surgeon to see him before Christmas Eve but we have an appt scheduled for December 24th with an excellent board certified surgeon – Dr. Donner at Southern California Veterinary Specialty Hospital in Irvine. We are hoping for a true Christmas miracle for this boy. His rectal growth is not looking great and quite bloody. His blood work came back OK except for being anemic. His chest X-rays are looking good, there are no masses shown inside his abdomen or chest area.
He is a very sweet boy, very affectionate and enjoys being around people, having his ears rubbed, and just being loved.
2018-12-24:Benson had an appointment consult with the specialist surgeon today. Dr. Donner is optimistic that she can remove the growth, hopefully without damaging his anal glands. She sounded positive about it and she is a fabulous surgeon that helped us with several other dogs in the past. We see it as good news because she has always been very honest with us. There is no way to know at this time if it is cancerous or not but they will do a biopsy after removal. Either way she said he would get at least 1-2 more years out of it. Of course this surgery comes with a hefty price and we are short about $2000.00 to cover for everything he had done so far, the surgery and post hospital care for about a week. He is scheduled for the surgery on Wednesday, December 26th. Please continue to send prayers and good thoughts his way. Benson is very grateful to all of you. He is getting ready for celebrating Christmas with his foster family and their guests tomorrow and wants to wish you all a VERY MERRY CHRISTMAS!!!
2018-12-26. Benson's surgery happened today and all went well. The growth was more extensive and deeper than Dr.Donner originally thought it would be. On a clock she said it was from 12:00 on right all the way to 10:00 like almost 360 degrees. She said she got it all and thinks it could be benign by the way it looks. Of course we'll get the biopsy results in a week or so. She said this surgery should have happened 2-3 years ago as the growth was there for a while. Poor guy was uncomfortable all this time, he was really grunting and seemed in pain when he would go poo. Which was pretty often. Dr. D is hoping that nothing else was damaged and he is going to have control of his bowels. She thinks that will be the case but we will not know until he wakes up and goes potty. He was also neutered today. They will monitor closely for few days. He is going to be in some pain but will keep him comfortable and medicated. She said other than that he is in excellent health and his ears and teeth are in great shape.
2020-06-16 Hi everyone! It's Benson, remember me? You donated and helped me have very painful bum (anal for those of your prefer proper terminology) growth removed in 2018. SCLRR rescued me from Palmdale shelter not long before my surgery. I was in a lot of pain at the time, blood coming out of my bum.
That surgery at the time was partially successful (no more pain but also no clear margins). It gave me back my happiness though. I was in no pain once I healed and absolutely lived my best life. I don't ever recall being so happy. I've spent more than a year going to work with my foster dad every day, having lots of fun playing together, and going on walks and hikes.
I was doing so well. I was SO HAPPY. Sadly I got DEVASTATING news today at my recheck – my cancer is back. Because of the size of the tumor and location (my bum) my surgeon could not remove it with clear margins at the time. Well it turns out now I need another surgery. I am scheduled for Wednesday, March 18th. It's soon because the Dr. doesn't want to waste any time in removing it and letting it grow further.
Of course I heard that this new surgery comes with another big price tag and we need money to cover for it. The estimate is between $3600 and $4000. I know it's a lot, but Dr. Donner at Blue Pearl takes such good care of me and if anyone is able to keep me happy and healthy… it's her.
I would really appreciate it if you could chip in, no amount is too small. I'd love to live another year with my foster dad… I never knew life could be so good. Can you help? Please visit SCLRR.org to donate through PayPal or mail a donation to us at SCLRR – 24325 Crenshaw Blvd #137, Torrance, CA 90505.
Please send prayers and good thoughts my way. I really need them.
---
Please help support this senior Lab's recovery by making a contribution in his name to our Senior Lab Rescue Program Fund. SCLRR started this fund as a resource devoted exclusively toward the rescue, rehabilitation and unexpected medical care of our older foster dogs. Your financial support is essential in providing these deserving Labs with a second chance at life with a loving family. The Senior Lab Rescue Program Fund is dependent on your donations. We are a federally recognized non-profit tax exempt group. Any donations to us, whether to SCLRR or to SCLRR'S Senior Lab Rescue Program Fund, are tax deductible.