SCLRR is pleased to present Lola Roo.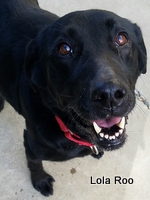 2017-03-10: My name is Lola Roo and even though the vet thinks I am about 9 years old, you would never know it. I weigh 50 lbs. When I first arrived at my foster home, I was so thankful to be out of that scary shelter that all I wanted to do was climb up on my foster mom. I just wanted to be right by her side and follow her everywhere and I would have sat on her lap if she would just let me. Because I am a pretty skinny girl, I am trying to gain some weight and build some muscle strength, especially in my hind legs. My hips are a little weak and the vet says I need to take joint supplements and anti-inflammatory meds for the rest of my life. This doesnt slow me down much. Pretty normal for a girl my age. And like most girls, I am trying to follow a healthy diet and exercise that consists of daily walks and playing fetch in hopes of becoming bikini ready for summer. Did I mention that I absolutely LOVE playing fetch? It is one of my favorite things to do.
My foster mom doesnt think that I have ever slept in a crate before because I wasnt the biggest fan of it, but I have learned that this is a space just for me and I run straight in when I am told. During the day, I like to spend time outside with my fur-sister. She is a few years younger and tries to get me to play with her but I am content just exploring the big yard or laying in the sun. I have a pool at my house and tried swimming for the first time but I was not very good at it. Twice I got a little too close to the edge and actually fell in. I was not sure what to do in the water, but that did not scare me away from it. I am sure with a few more lessons I will get the hang of it. When I am inside I mind my manners and stay off the couches and I do not jump on the counters.
When you meet me, it is obvious that I am very friendly with everyone including other dogs but my foster mom can tell that I am happiest when I am sitting by her side with her holding my paw or giving me a good belly rub. I would do well in a fur-ever family where I was an only dog or a home where I had other dogs to hang out with. In my current home, I live with three young kids, two dogs and two cats. I do not pay much attention to the cats and to be honest I did not even know they lived here. So if you think that you would like to be my furever family contact your family rep right away!
---
If you are interested in making this Lab part of your family, please contact your SCLRR family representative. If you have not yet applied with us, please submit an online application to adopt; an SCLRR volunteer will then contact you. Please note that your homecheck must first be approved in order for you to be put in touch with a dog's foster home.