SCLRR is pleased to present Morgan Boy.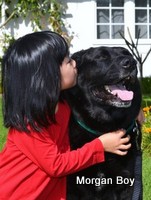 2017-04-16:
If you are looking for a soul mate, someone to be faithful through thick and think I'm your guy!
Hi everyone… I'm Morgan Boy. But you can call me 'Mr. Mellow.' That's what my foster mom calls me. I'm a really relaxed 8-year-old male. In fact, I believe that resting my head on someone's lap is the most awesome adventure ever.
But don't let my peaceful nature fool you… I'm up for walking with you too. Every day my foster mom and I walk 3-4 miles because I came to SCLRR as what you might politely call a 'fluffy' gentleman. But since then, we've been committed to my transformation. So far, I've lost 17 pounds! I am really starting to feel great and I'm looking more handsome than ever, if I do say so myself.
While my body is still under construction, my amazing personality has remained the same. Thank goodness because I am one happy guy! I love children and I'm great with other dogs, but mostly I want to be with you! I will happily sleep at your feet while you watch TV, work on your computer, or read a good book.
Okay so here is the part that is hard for me to admit. When I first came into my foster home I had separation anxiety. It's probably because I don't ever want to be left alone again after being dumped by my family at that scary shelter. So, I would love to find a family where someone is at home most of the day only for the first week after I move on. Over time I've learned that it is OK for my people to leave home and I am fine being left in the company of my foster brother and sister. It really is embarrassing for a distinguished guy like me, but with time I totally can work through this… I just need your help and patience. Don't worry my foster mom will guide you through it… she has worked wonders in helping me settle in and feel comfortable!
I have never met a cat while we have been living together so it may good idea if I do not live in a house with cats as I am a bit too interested in the squirrels and rabbits on our walks.
To sweeten the deal, you need to know that I'm fully housetrained. Know how to use the doggie door, and have great leash manners.
So, are we a match? Then what are you waiting for? Have your family rep contact my foster mom today so we can begin our happily ever after together.
Check my videos playing with my friends at the park
---
If you are interested in making this Lab part of your family, please contact your SCLRR family representative. If you have not yet applied with us, please submit an online application to adopt; an SCLRR volunteer will then contact you. Please note that your homecheck must first be approved in order for you to be put in touch with a dog's foster home.