SCLRR is pleased to present Shiloh 3.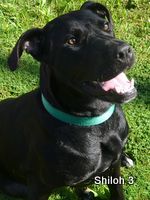 2017-08-10: Hi. My name is Shiloh 3 but you can call me simply Shiloh. I am a happy, friendly, playful male black lab mix at 65 lbs. My path to SCLRR hasn't been easy, but you would never know it. I probably had some bad experiences in my past as I have a scar on the right side of my face but that doesn't stop me at all from loving everyone I meet – dogs, people, and children.
I love going for walks and I greet everyone with a friendly tail wag, even dogs who don't act very nice. I have excellent leash skills. I might pull a bit if I see something really exciting (like a new doggie friend), but most of the time I go at your pace with a loose leash.
After people, my second favorite thing is playing fetch. I have a lot of enthusiasm for everything that comes my way and love making new friends. I am not good with cats. I find them funny creatures and I am thinking hey – this is a fun new friend to chase so no kitties for me please.
I love my crate and I am good about going into it. I sleep in my crate at night quietly. Once I had my exercise for the day I pretty much chill out in a quiet spot in the house.I am told I am a medium energy boy.
I am fully housetrained and learned in just few hours how to use the doggie door. My 2 foster brothers here showed me few times and I got it. I am being told that I am a smart boy.
I would fit well in any family that has the time for me and is willing to take time to have fun with me. I have lived with two foster families and several young kids. I am currently living with 2 dogs and they are kind of grumpy so I learned to leave them alone. I am gentle and take treats nicely. But while I would fit in well with a family with children, I really just need a family who is going to spend time with me, exercise me and shower me with the love and companionship I need. I am told I am a cool guy.
I am a lot of fun and if you are interested in meeting me, please let your family rep know ASAP. My 1st birthday is coming up (August 22nd) and I would love to have a new home for my BIG day!!!
Check out my videos
---
If you are interested in making this Lab part of your family, please contact your SCLRR family representative. If you have not yet applied with us, please submit an online application to adopt; an SCLRR volunteer will then contact you. Please note that your homecheck must first be approved in order for you to be put in touch with a dog's foster home.