SCLRR is pleased to present Col Parker.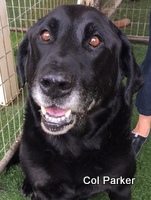 2017-06-14:
ATTENTION: Col Parker here. Well let's see now …my Foster Mom tells me that I am a gentle giant because I am very tall for a Labrador but I am very svelte. No extra pounds on my large frame for sure even though I weigh about 110 lbs. I am approximately 8 years old and I am very distinguished and mature looking. Everyone that I encounter always comments on my height and my kind, beautiful, expressive eyes.
I am a true gentleman, I accept food/treats with a very light, gentle touch. I am housetrained and I would never think of getting on the furniture or doing a maneuver that some labs are famous for called 'counter surfing'. I enjoy being around people and I would never think of jumping up on anyone. Due to my size, a family that did not have very small children would be more appropriate for me.
Some of the things I truly enjoy are my morning and evening walks and when my foster mom brushes me. I love to be brushed every day because my grooming sessions ALWAYS end with my favorite thing in the whole entire world…my belly rubs. Nothing makes me happier than being petted and talked to. I will gently remind you with a soft nudging of my head if you happen to stop before you should.
I am truly what one would call a low-key, low maintenance kind of fellow. I do not need toys to keep me amused but I do enjoy an occasional raw knuckle bone to chew on. Keeps my 'smile' shiny.
Since I have been into rescue I had blood work done, X-rays, a dental cleaning and several lumps and bumps removed. You can say I had quite a makeover.
There is not another dog living at my foster home but I met few doggie friends and I do alright around other dogs.
If you want a kind, loving, loyal companion I am your fellow. Please contact your family rep if you are interested in me.
Check my video
---
If you are interested in making this Lab part of your family, please contact your SCLRR family representative. If you have not yet applied with us, please submit an online application to adopt; an SCLRR volunteer will then contact you. Please note that your homecheck must first be approved in order for you to be put in touch with a dog's foster home.