Toby12
Summary: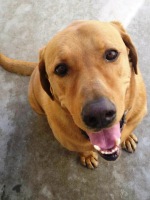 Listed on: 2015-11-04
More detail:
2016-01-07: Toby was born around May 2008 along with 7 other siblings. He was the alpha of the pack and was the only one with darker yellow skin color. He naturally stood out from the pack. He is sensitive and really smart. He is super friendly and loves to be petted. Toby is extremely affectionate. When Toby first came to our house, he was scared but eventually he got used to our family. We were able to let him inside the house every once in a while, but after we remodeled our house, my mother would not allow him inside the house (and so it was sad for him). So he's been outside in a small enclosed area in our backyard for more than a year. I moved out from my mother's and got married and now have a baby son and can no longer care for him. Toby still currently stays with my mother (as my place does not allow for a big dog like Toby) but still in a small enclosed area. My mother is the one that feeds Toby everyday and she's recently diagnosed with cancer and can't care for him anymore. I am so busy with building a career and my baby that I rarely have time to go see Toby. Due to our current circumstances, we've made the difficult decision to let him go in hopes of finding him a new home.
---
If you are interested in making this Lab part of your family, please contact your SCLRR family representative. If you have not yet applied with us, please submit an online application to adopt; an SCLRR volunteer will then contact you. Please note that your homecheck must be approved in order for you to be put in touch with
the owner of a listed dog.