Dixon Guy
Summary: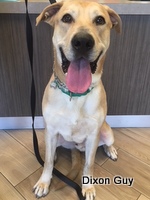 Taken in: 2018-02-13
More detail:
2018-02-25: Dixon Guy is a yellow lab mix, a gentle giant at 90 lbs. He is about 2 years old. He came into SCLRR from a local shelter after his owner decided he doesn't want dogs any longer.
It took him about two days to assimilate into the family. He is sweet, loves to be around his people, doesn't bother our cats, great with dogs and is decent on a leash. He's just a little squirrely

Doesn't pull like our black lab though, so that's nice. He seems timid around men at first and will softly bark as he wags his tail and sniffs. It took him maybe two days to become comfortable with my husband and now he follows him everywhere. He loves the ladies though. He is quite a charmer.
He is sweet and affectionate and loves being next to his people. He is jumpy at times but it is his way of showing his enthusiasm and love. Because of his size he should be placed with kids over 7 yrs of age.
Dixon has probably assimilated more quickly than most of the dogs we fostered. He does love to be in the house though. We leave Dixon and our dog in the house when we go out. He has never had an accident or chewed anything. He has slept through the night since the first night here on a comforter beside our bed.
We love Dixon and will miss when he leaves us!
If you are interested in making him part of your family please contact your family rep ASAP.
---
If you are interested in making this Lab part of your family, please contact your SCLRR family representative. If you have not yet applied with us, please submit an online application to adopt; an SCLRR volunteer will then contact you. Please note that your homecheck must be approved in order for you to be put in touch with
the dog's foster home.