Kylie
Summary: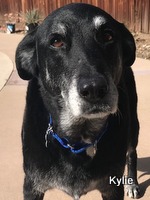 Taken in: 2018-02-06
More detail:
2018-01-29: Hello everyone,
My name is Kylie and I am very pleased that you have clicked on my link. You see I have been in the shelter two times in my life and it is a place no dog should ever have to go. My Foster Mom says she does not understand why I was ever at the shelter to begin with. She says I am very loving; I like all people, other dogs and even cats. I have been living with another small dog and a cat at my foster home. I am ten years old but still like to play occasionally and I enjoy short walks around as well.I weigh 82 lbs.
I went to the beach with my Foster Family and I loved it. My favorite things to do are laying in the sun and following my person around. I am happiest when I am with someone so a home where someone is home most of the time would be my cup of tea but do not worry I do just fine and can be trusted in the house when left alone for short amounts of time. I am house trained and am never destructive.
So if you are looking for someone to hang out with, take short walks and just want a super loving companion I am probably your girl. I look forward to meeting you soon so we can start our happy life together.
Kylie
---
If you are interested in making this Lab part of your family, please contact your SCLRR family representative. If you have not yet applied with us, please submit an online application to adopt; an SCLRR volunteer will then contact you. Please note that your homecheck must be approved in order for you to be put in touch with
the dog's foster home.