Teddy BooBoo
Summary: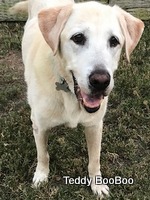 Taken in: 2017-10-03
More detail:
2017-10-16: Thanks for checking me out! My name is Teddy BooBoo and I'm a sweet mellow yellow boy around 10 years old weighing 80 pounds. I was a stray and ended up at the shelter and now in foster care. I went to visit the vet for an exam and my blood work looks good and I got a dental cleaning. My hind legs are a little bow legged but it doesn't seem to bother me since I've learned to live with it. I like to go on short slow walks so I don't require much exercise but just like to get outdoors for some fresh air. I need a little help getting into the car since I can't jump and I like going for rides. Sometimes I play with squeaky toys but I don't destroy them. I really just like to relax and sleep but want to be in the same room as my humans. I get along with my foster sister and friendly when meeting other dogs at the park or on my walks. I can be trusted to leave home alone without any destruction. I figured out how to use doggie doors on my own so I think I'm a smart boy. I give gentle kisses to my foster mom to show my love and appreciation. I'm looking for a family with a lower active lifestyle who is around more often. Stairs would not be good for me since my hind leg mobility can be a struggle. I'm good with kids but might be too much activity for me to keep up with. I would make a great companion dog since I'm just so darn sweet. Please contact your Family Representative if you are interested in making me part of your forever family.
---
If you are interested in making this Lab part of your family, please contact your SCLRR family representative. If you have not yet applied with us, please submit an online application to adopt; an SCLRR volunteer will then contact you. Please note that your homecheck must be approved in order for you to be put in touch with
the dog's foster home.