SCLRR is pleased to present Simmba.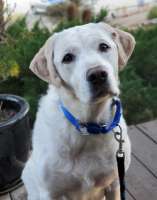 2020-02-23: Simmba is a handsome 9-year-old yellow male weighing 85 lbs. He came to SCLRR from Castaic shelter. Since coming into rescue he had full blood work, a dental and few fatty lumps removed. He is neutered and microchipped, and up to date on vaccines.
Don't be fooled by his age, this fella is very strong and is no couch potato. He loves his walks/jogs and needs them daily.
Simmba gets walked with a'gentle lead' or a 'pinch collar' and he does need some leash etiquette as he thinks every dog passing by wants to be his forever friend.
Simmba does well with other big dogs, but little dogs are a bit of a bother to him, espoecially if they get in his face. He would do best in a home being the only dog or an older mellow dog with no cats.
Simmba is crate trained, but he really doesn't need to be in a crate. He is a dog that would prefer to have someone at home if possible.
He is smart and a super good listener, he needs a family that will make him earn affection and not reward him when he is being clingy. We want a family that will demand things from him and make him be a well-balanced dog. Although Simmba is good with kids, we think an adult home would be best to follow through with this training.
Simmba is a loving boy and can't get enough chin rubs, or belly rubs 🙂 As a bonus, Simmba gives 'lopsided high fives' it's the cutest thing ever!
He is a great dog. If you think Simmba might be a good fit for your family, please contact your family rep or fill out an application online.
M
---
If you are interested in making this Lab part of your family, please contact your SCLRR family representative. If you have not yet applied with us, please submit an
online application
to adopt; an SCLRR volunteer will then contact you. Please note that your homecheck must first be approved in order for you to be put in touch with a dog's foster home.