SCLRR is pleased to present Royce Roy.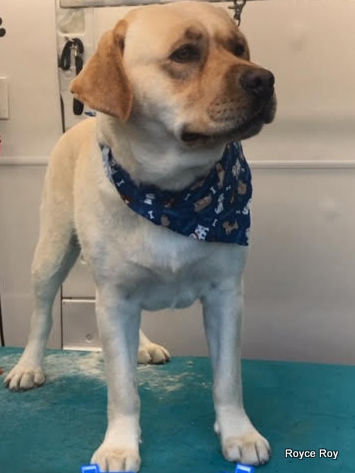 2020-05-09: Hi! My name is Royce and I just turned 3 years old in March. Don't be deceived by my serious face, I am actually a happy, medium energy dog who loves to be around people. My foster mom says I am an adorable, loving dog with big brown eyes that will melt your heart! When I first met my foster mom, I was overweight (96.5 pounds) and had no manners. Since then I have lost about 10 pounds, underwent neuter surgery, and have been exercising regularly and learning some basic commands.
I am a really gentle boy, but I need a lot more work on my leash manners. My foster mom says I am VERY strong and if I see other dogs on our walk I get super excited pulling and barking(tail wagging) to get to them to play. Some dog owners find me intimidating, but I just want to play. I need a strong handler to help me learn the correct way to approach other dogs when I'm on a leash. When I'm off-leash I'm perfect. Before the dog parks closed my foster mom would take me there to run around and play with the other dogs and I had a blast!
My foster mom says I'm pretty smart because after only a few weeks I learned Stop, Wait, This Way, Leave It, Eyes on Me and Come Here. My foster mom says I am a perfect dog at home. After my morning walk/jog, I will settle down and nap while everyone works at their desks but I keep them in my sight at all times. I do like to ask for head/belly rubs throughout the day but other than that I am just chill.
I am OK to be left alone for short periods of time and will sleep or chew on a bone until you come home. One time, my foster mom tried to see if I would enjoy relaxing in the backyard, but I just sat by the sliding door wiling it to open with my stare – I guess you can say I'm an in-door dog! A family with or without another dog is fine for me; but I'm pretty large and sometimes get the zoomies, so probably no small children. My foster mom doesn't have cats, but she suspects I would chase them, so probably no cats.
I have been shuttled around a bit in my three years and I am ready to settle down in my forever home. Will yours be mine? If you are interested in meeting me, please contact your family rep.
---
If you are interested in making this Lab part of your family, please contact your SCLRR family representative. If you have not yet applied with us, please submit an
online application
to adopt; an SCLRR volunteer will then contact you. Please note that your homecheck must first be approved in order for you to be put in touch with a dog's foster home.