Cassidy Roo
Summary: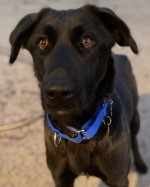 Taken in: 2023-05-17

More detail:

2023-05-22: Hi there!

My name is Cassidy Roo! I'm an 18 month old, female, Black Labrador mix from the high desert. I was picked up by animal control wandering the desert, thin and hungry. I currently weigh about 56 lbs., but my foster mom is feeding me 3x a day so I can gain more weight.

I am housebroken, gentle, mellow and smart as a tack! I walk on a leash like a dream! No lunging or pulling at all! And I will hop in your car to go anywhere with you! I liked getting my feet wet in the lake, but not sure about swimmies yet.

My foster mom has 5 other dogs, and I was nervous at first, but now we are all friends and running the ranch together! I met the barn cat too, and well...she's mean and I am not interested in her whatsoever. There is also a puppy here, and I am very gentle with the little guy.

I'm not a barker, I don't jump on people, and when you call me, I'm at your side immediately. I am also kennel and crate trained. I learn quickly and just want to be with my family. I would be happy being an only dog, or with another dog...just as long as I have my humans.

If I sound like the girl for you, please contact your family rep. I will be here helping run the ranch with my new friends while I wait for you!



---
If you are interested in making this Lab part of your family, please contact your SCLRR family representative. If you have not yet applied with us, please submit an online application to adopt; an SCLRR volunteer will then contact you. Please note that your homecheck must be approved in order for you to be put in touch with the dog's foster home.