Reacher Bear
Summary: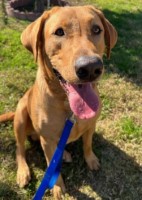 Taken in: 2022-12-19
More detail:
2023-01-08:
Reacher is one stellar, full of personality 10-month-old, neutered red fox Lab, who weighs 86 pounds. He is an AKC registered love bug who will bring tremendous love and enjoyment to one lucky family.
His primary motivations upon waking up each day are to walk/jog, engage in playtime, please and receive lots of attentive love from his foster family.
This phenomenal pup is extremely social with all dogs, is house-trained, is crate-trained, is non-destructive in the house, rides well in the car, well behaved at outdoor restaurants, and will take a treat gently.
Reacher knows sit, come, waits for the okay to eat, and walks well with a prong collar, and can jog a mile in an impressive 8 minutes. Dropping a ball on command is a work in progress. He has not demonstrated any interest in chasing cats, squirrels, etc.
Reacher is a high energy pup. His forever family should be active, seasoned, and home the majority of the day to provide the exercise a ten month old pup requires.
I would not recommend a family with young children or the elderly due to his exuberant personality.
Please reach out to your foster representative if you believe this fantastic pup will be an amazing addition to your family.
---
If you are interested in making this Lab part of your family, please contact your SCLRR family representative. If you have not yet applied with us, please submit an online application to adopt; an SCLRR volunteer will then contact you. Please note that your homecheck must be approved in order for you to be put in touch with
the dog's foster home.