Jack R
Summary: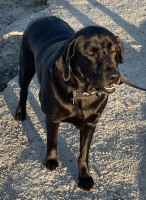 Taken in: 2022-11-12
More detail:
2022-11-21: My name is Jack R, I am a handsome, 5-year-old Lab with the sweetest of personalities.
I possess many wonderful qualities including: I am house-broken, non destructive, I do not bark, I do not whine, I do not jump up on people, and I ride exceptionally well in the car. I know sit, stay, come, and I'm learning to drop the ball on command too (green beans are a tremendous motivator). I show my appreciation of belly rubs by releasing cute grunts.
My previous owner unfortunately had to give me up due to a family situation. They loved me to bits so this was an extremely difficult decision.
I love long brisk walks and I am also a great jogging companion. Other activities I enjoy include ball play, tug of war play, and to hang out with my family.
My forever family will need to keep food items out of reach as I have a tendency to counter surf if no one is paying attention.
My foster family believes I will continue to thrive in a home where my forever family is either home the majority of the day, or takes me with them when they leave home. I'm social with other dogs, however, I would prefer to be the only dog in the house. My previous family had a pool; I would be very fortunate if my new family were to have a pool too.
Please reach out to your Family Representative if after reading my bio you believe I will be a wonderful addition to your family.
a
---
If you are interested in making this Lab part of your family, please contact your SCLRR family representative. If you have not yet applied with us, please submit an online application to adopt; an SCLRR volunteer will then contact you. Please note that your homecheck must be approved in order for you to be put in touch with
the dog's foster home.