Kooper
Summary: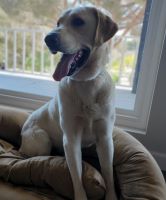 Taken in: 2022-06-11
More detail:
2022-06-18: Kooper is a 1-2 year old, yellow, male Lab is weighs approximately 60 pounds. He came from a Kern shelter with no known history (stray). He is quite tall, but still on the lighter side. Kooper is very healthy and appears to not have any allergy issues, etc. He is being treated for yeasty ears which we have an excellent protocol to keep easily in check if it turns out to be chronic. He has moderate energy and will need daily mental and physical exercise. He is young, has some training, but will need experienced dog owners. He LOVES water – swimming, baths, hoses, you name it – all things water! He does love to fetch and play.
He is very social with dogs. He currently lives with two larger dogs and will play a small bit with them. He is also excellent with small dogs and will play with small dogs as well. With that said, Kooper is not a dog that is looking to have another dog buddy – he is solely focused on people. He can live peacefully with another dog, but should not be adopted to be a buddy for another dog. He is on the social dominant spectrum and takes correction.
Kooper would make an excellent only dog as he does not need another dog to keep him company when alone. Kooper is also excellent with cats – no chasing and leaves them alone. Lastly, he has been great with our mini donkeys – respectful and in control. Overall, Kooper is very good with animals of all kinds with the exception of birds – he wants to chase birds whenever possible.
Kooper will need to be monitored for housebreaking. He has done excellent in our home, but we are vigilant and don't let him wander. When stressed, he is a marker, but once settled down he is fine. Cooper is crate trained, fine left alone in a backyard or kennel. He does not have separation anxiety. He is an amazing dog for staying calm and waiting for his human when leash tethered. He does not fuss and is excellent.
Kooper is a very soft dog and will need positive reinforcement for his training in the future to ensure he stays trusting of humans. His foster has given two baths, trimmed nails, inserted a microchips, cleaned ears and groomed everywhere. He is a very good boy and pretty easy to handle.
Kooper has been great with all people – men, women, kids, older people, just everyone. He has been to softball games and stores. He is always getting compliments for being such a well mannered dog. We would like to see him in a home with older kids because he is younger and needs training and attention.
He is going to need regular exercise and training. He is on the needy side which he will need to be controlled on to ensure he stays stable. Kooper loves car rides and will sit in a car all day to be able to go for a ride. Kooper basically loves life and would make a great dog to take to work.
---
If you are interested in making this Lab part of your family, please contact your SCLRR family representative. If you have not yet applied with us, please submit an online application to adopt; an SCLRR volunteer will then contact you. Please note that your homecheck must be approved in order for you to be put in touch with
the dog's foster home.