Sadie Sue
Summary: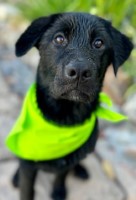 Taken in: 2022-05-27
More detail:
2022-06-07: Hello everyone!
Sweet Sadie Sue here. Well now, I am looking for the 'Just right home' for myself. I am a bootiful, black, brave, approximately 18-week-old spayed female Lab mix puppy with a personality that will amaze you.
I just love life. My foster Mom calls me her Dynamo, whatever that means! I love kids, dogs, birds, butterflies, bugs, lizards, toys, and my Foster Brudder Buddy, so much!
Someone did not see my potential to be the BEST pup ever and just tossed me to the wayside out in Victor Valley so I wound up in the shelter out there. Then this really nice lady came and talked, pinched, and tickled me and took me out of Doggy Jail! She then took me to another lady that took me on a really long car ride to her house where I met my Foster Brudder, Buddy. I used the long car ride to my advantage and slept the entire ride without even one whimper.
I would love a furever home that has another dog to help me learn the 'ropes' of being the best dog ever, as my goal in life is to PLEASE. Even though I am a puppy and do 'puppy' things I learn things fast. I know sit, stay, leave it, and I am a very good girl and only potty outside. I have recently learned how to use a doggy door so I will not be a bother asking to go in and out if my new family has one. I have met cats and they really do not interest me so I would not mind have my own kitty to play with. I love sleeping in my very own house my Mom calls a crate. Just in case you have farm animals, I am good with cows, piggies, goats, and horses too.
If you think you might be interested in giving me the best home possible, please contact your Family Rep and have them send your application in for Sweet Sadie Sue…you will not be disappointed, I promise.
---
If you are interested in making this Lab part of your family, please contact your SCLRR family representative. If you have not yet applied with us, please submit an online application to adopt; an SCLRR volunteer will then contact you. Please note that your homecheck must be approved in order for you to be put in touch with
the dog's foster home.