Chowder Roy
Summary: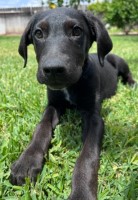 Taken in: 2022-05-05
More detail:
2022-05-12: A litter of four neglected and malnourished 8-week-old puppies ended up at an overcrowded and noisy shelter, helpless and terrified. They could not get the individual care and attention they desperately needed, so one of our volunteers quickly got them out of that scary place and into foster homes so that they can have a chance for a better life.
In only a few short days, with regular nutritious meals and a quiet home to decompress, Chowder Roy has become quite the happy little boy!
Hi, my name is Chowder Roy, and I love my foster family! I get to wrestle with my real brother, and my foster brother plays with me sometimes too!! He's pretty big, but he's very gentle. We play fetch, tug-o-war and hide-n-seek! My foster mom is pretty cool too, we like snuggling after play-time. My foster mom thinks I will be a medium-energy velcro dog, but I'm just a puppy, so who knows? I'm learning how to go potty outside, and I sleep through the night in my crate without any accidents! I'm even learning some basic commands like sit and come. I really like the attention I get when I am learning new things, so I'm hoping to go to some group training classes so I can be the best boy ever.
I'm ready to meet my forever family that will give me the love and attention that I need to grow and become your loyal companion. Please call your family rep right away if you think you can be that family for me!
---
If you are interested in making this Lab part of your family, please contact your SCLRR family representative. If you have not yet applied with us, please submit an online application to adopt; an SCLRR volunteer will then contact you. Please note that your homecheck must be approved in order for you to be put in touch with
the dog's foster home.