Paco Taco
Summary: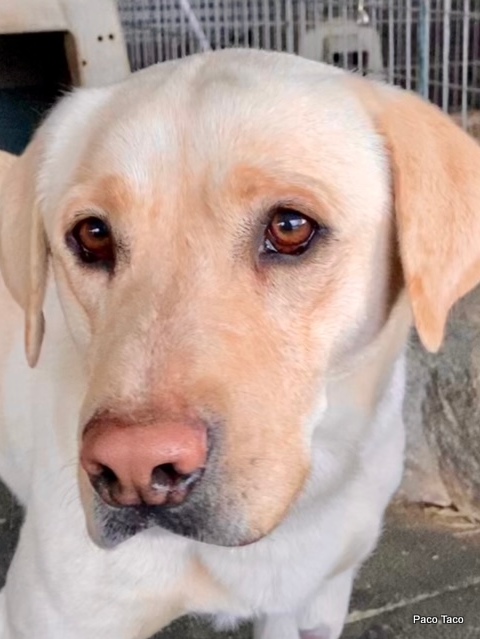 Taken in: 2022-04-22
More detail:
2022-05-09: Paco Taco is a beautiful yellow boy, 3 years old Lab mix and at approximately 70 lbs.
Paco Taco went thru 2 weeks of board and train recently and this is what the trainer wrote about him: 'He is a phenomenal dog. He is very loving and high energy and has amazing drive to make him a great running or fetching companion! He wants nothing more than to sit at your side and be given unlimited pets.
He loves to go on walks and loves to play fetch! He is comfortable around cats and even ignores them and shows no interest of aggression towards: dogs, children, or cats. Wild puppies cause him more to flee if the puppy is out of control and chasing him. Paco will thrive with another fur brother or sister or an owner that is very active outdoors as Paco loves to run, go on long walks, or hikes.
The best qualities about Paco are his overall good decision-making skills, and his obedient disposition to leadership when shown properly and kindly. He loves to listen and he wants to do what he is told to do – he just needs to know how to do it. Being a Labrador, he is absolutely fun to train and very, very quick to learn beyond the basic obedience commands. '
The trainer will have 2 training sessions with his new family either in person or via phone, depending where his new family will be located just to show the family how to work with him.
He is afraid of loud noises and sudden movements but he is learning to trust more and more every day. Paco Taco's ideal home would be with somebody active that is not away from home for long periods of time. Somebody that will continue to work with him and guide him to becoming the best dog he can be. He needs an owner that is a leader, a softie will not be in his best interest.
If you are interested in giving Paco Taco a forever home, please contact your family rep.
---
If you are interested in making this Lab part of your family, please contact your SCLRR family representative. If you have not yet applied with us, please submit an online application to adopt; an SCLRR volunteer will then contact you. Please note that your homecheck must be approved in order for you to be put in touch with
the dog's foster home.