Shugee
Summary: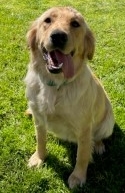 Taken in: 2022-02-28
More detail:
2022-04-24: Introducing Shugee, the sweetest, softest, cuddliest, fun, happy and…honorary Labrador there is! We are told Shugee is a Labrador mix, however she looks very much like a Golden Retriever. Honestly, this doesn't matter, because this girl is a keeper! She is a beautiful golden color, about 55 lbs. and 1 year old.
Shugee came to us with a severe head wound. Even throughout some very painful treatment and a long road to recovery, she was always happy and loving. Always ready to play or get some love. All while wearing a cone the size of Montana!
This little girl loves to play! And she is quick! Those zoomies are pure joy! Shugee loves to play ball and will even play catch. Tennis balls are a favorite. So much so that she is not allowed to have them without supervision. She starts by grooming them and next thing you know she is chewing them up! She loves to play tug of war with her foster sister and wrestling together is super fun! And water from the hose is the best thing every invented! She will jump up to catch the water and chases it like a cat chases a string. Absolutely adorable!
Shugee loves her walks, but needs some work on leash etiquette. For being so little, she is surprisingly strong! She loves to chase lizards, birds and squirrels and she will take you with her! She does best using an easy walk harness.
I may be biased, but Shugee is pretty perfect. She plays with her own toys and if she mistakes a shoe as a toy, she will hand it over with no question. She has not chewed anything up other than toys during the tug of war marathons. She is crate trained and goes in like a good, gentle girl. However, she is also trustworthy in the house. She would love to cuddle with you on the couch and even though it is not allowed here, she does sneak up at night and curls up in a little ball (it is pretty adorable!). When you pet Shugee, she will look up at you adoringly and then just melt onto the floor and ask for a belly rub.
Shugee will be an incredible addition to the family! She would do well with an older sibling to teach her the ropes as she follows and does whatever her foster sister does. She will be happy with children to play with as well! She does jump up and is trying hard to learn not to, but 8 and up would be best.
If you are are ready to make this little knucklehead one of the family, please contact your Family Rep. Shugee will be here having a great time while she waits.
online application to adopt; an SCLRR volunteer will then contact you. Please note that your homecheck must be approved in order for you to be put in touch with
the dog's foster home.