Dude 2
Summary: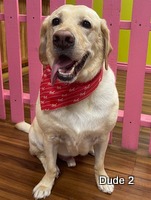 Taken in: 2022-01-07
More detail:
2022-01-10: Well hello Families! My name is Dude 2 but you can call me simply Dude. I am an 83lb pure bred AKC papered 5 year old yellow Lab. Let me start out by telling you a little bit about my wonderful self. I have a certificate that I graduated my classes with honors at Wags and Wiggles.
Sadly my owner passed away suddenly and he and my foster Mom were very good friends so he made sure that SCLRR would find me a new home. I really miss my owner! But my foster Mom had known me since I was a baby and has babysat me many times.
I have very good leash manners and I listen very well. I am trustworthy in the house and I am fully housetrained. I have slept on a dog bed and on my foster parent's bed – I sleep quietly through the night.
My foster Mom is super active and takes me everywhere! I usually go to the dog park every morning. See my previous owner took me to doggie day care twice a week for four hours so I could play and swim. I was happy to see a lot of my dog friends from doggie day care at the park!
My most favorite thing in the world is being able to swim in a pool or at the beach! I am an all-around happy boy. I am affectionate and love to cuddle and give kisses. I currently live with Lucy (SCLRR alumni) a 5 year old Lab and Piper a cheweenie. Lucy and I play but she doesn't like to swim.
I am looking for a home where someone would be home most of the day or working from home. I just love being with people so much that I feel that would be the best environment for me. My previous owner was retired and we were inseparable! He took me everywhere! I love car rides and settle down nicely in the back seat behind the front passenger seat! Yes Lucy and I wrestle for that spot on our way to the park! Did I mention I love to swim? My foster Mom has a pool and I have been swimming every day! A house with a pool would be my dream!!!
All I want is another chance to continue my life of happiness! If I'm your Dude, please contact your family rep ASAP!
---
If you are interested in making this Lab part of your family, please contact your SCLRR family representative. If you have not yet applied with us, please submit an online application to adopt; an SCLRR volunteer will then contact you. Please note that your homecheck must be approved in order for you to be put in touch with
the dog's foster home.