Piper Sue
Summary: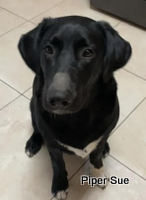 Taken in: 2021-11-01
More detail:
2021-11-20: Hello! My name is Piper Sue! I am a Lab/Border Collie mix and have a beautiful black coat and the brightest whitest teeth you've ever seen—I also have some white fur on my chest and feet that make me extra cute. I am 11 months old, about 50lbs and the happiest, most playful puppy around with lots of puppy energy! My foster family has four kids and we have SO much fun together!! They take me on walks where I am still learning to like my leash. We play ball-A LOT (it's my favorite and I almost always catch the ball), and they take me outside to play in the park and neighborhood with all their human friends. Everyone says I am so fun and cute!
In the house I like to be where the action is but if everyone is busy I'll lay down and chew on my bone or play with my ball and toys by myself.
I love to go on car rides and do great in the car. I am potty-trained but do not like to go to the bathroom outside on leash so I will need a backyard. I am crate trained and do wonderful in my crate overnight or when my foster family leaves the house. All it takes is a treat or two to get me in there then I'm good to go.
We do a lot of silly things around here! My foster Dad likes to pick me up and hold me and when he does I lay my chin on his shoulder and I'm comfortable as can be! The kids lay on the floor and have me cover them in kisses. I've been having a lot of fun chasing and eating the water from the hose—I like to get wet and I can play ball with the chuck it forever! I run so fast!
I know how to 'sit' and 'lay down' and 'drop it'. I'm learning 'stay' because the second a door opens I am so quick to dart out. Fortunately, I never go far and once I see my ball or hear it bounce, I'm right back inside. I would be so happy if my forever family has kids that will play with me and/or adults with energy to take me on lots adventures and walks to teach me to be better on leash.
I am super sweet and friendly and love to be out and about or snuggled at my people's feet during movie night or while my foster mom is working at her desk.
I don't have a mean bone in my body and would be the best addition to your family. I would love to find my forever home and spend the holidays with my new family!
---
If you are interested in making this Lab part of your family, please contact your SCLRR family representative. If you have not yet applied with us, please submit an online application to adopt; an SCLRR volunteer will then contact you. Please note that your homecheck must be approved in order for you to be put in touch with
the dog's foster home.