Banderas
Summary: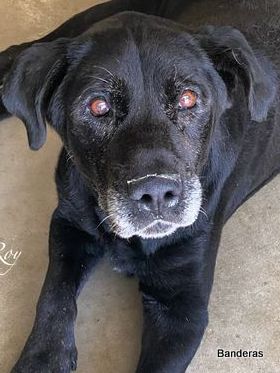 Taken in: 2021-07-14
More detail:
2021-08-05: Banderas is a 10 year old, 61 pound, black male Lab.
He came to us from a local shelter, no previous history on him as he was a stray. He was a shelter's favorite because of his sweet nature. Since coming into rescue, Banderas was neutered, had blood work done and a dental (he needed 2 extractions).
He is very sweet, quiet and an extremely mellow boy. He is good with other dogs and dog savvy cats. He currently lives with 2 other dogs and a cat. He likes to be around his humans so he should go to a home where someone is home most of the time. It may take him some time to settle in and feel comfortable but when he does he likes to make bear like sounds and stretch out on his bed.
He hasn't been around kids but I would say he'd be fine with older ones. He's also not scared or intimidated by wheelchairs, he does great with my handicap daughter. He loves his meals and takes treats very gently!
If you are interested in giving this sweet boy a forever home, please contact your Family Rep.
---
If you are interested in making this Lab part of your family, please contact your SCLRR family representative. If you have not yet applied with us, please submit an online application to adopt; an SCLRR volunteer will then contact you. Please note that your homecheck must be approved in order for you to be put in touch with
the dog's foster home.