Cork
Summary: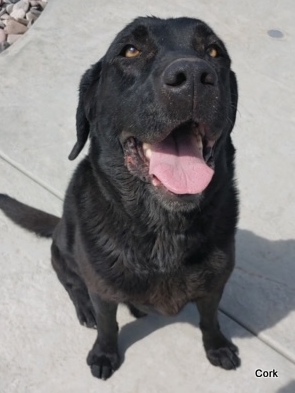 Taken in: 2021-06-02
More detail:
2021-06-10: Hello families! My name is Cork and I am a 5 year old black male Labrador retriever, weighing approximately 81lbs. I don't know much about my previous life – but I do know I'm on my way to a fantastic new life full of adventures with a new family!
I live with my current foster family that has Lucy (SCLRR alumni), a 5 year old retriever and Piper, a little chiweenie. My foster family is super active and we go for walks about three times a day. I love to walk and have excellent manners on leash! I do not pull or lunge at other dogs or people. In fact when we stop, I automatically sit like a nice gentleman. Everybody I meet says what a handsome, intelligent and beautiful dog I am and my foster Mom would agree too! People also comment on my beautiful eyes, my Mom says I have 'soulful eyes.' My Mom has taken me to the dog park a few times. My foster sister Lucy loves to just chase her ball but I am more interested in all the humans and I love getting petted by all the nice people.
I also have slept quite soundly next to my foster parents bed on a dog bed.
I know simple commands and I'm very intelligent and correct easily. I also am not food driven unlike my foster sister Lucy. I do not counter surf and when I get fed, I sit patiently waiting until I am fed. I am a complete 'Velcro dog'. I absolutely love being by my humans and just want to be wherever you are. I ride nicely in the car too! I've gone for a few swims in the pool and know not to go in unsupervised. I am very easy going and mellow.
I am now ready to find my own family to love and live happily ever after with. I would love to go to a family that is very active and that either works from home or is not gone for long periods of time. I really don't like being left alone and I'm still working on my crate training skills!
If you are interested in making me part of your family, please let your Family Rep know ASAP!
---
If you are interested in making this Lab part of your family, please contact your SCLRR family representative. If you have not yet applied with us, please submit an online application to adopt; an SCLRR volunteer will then contact you. Please note that your homecheck must be approved in order for you to be put in touch with
the dog's foster home.