Pranzer
Summary: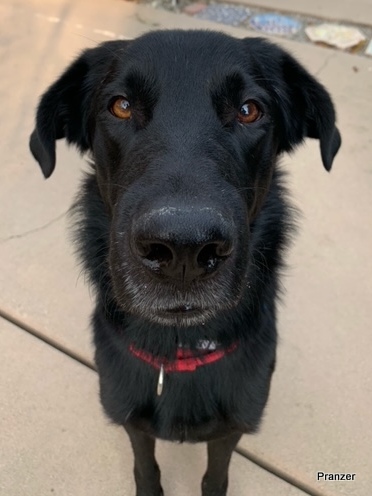 Taken in: 2020-10-01
More detail:
2020-10-15: Hello everyone!
My name is Pranzer and I am going to get right to the point – I am a single male fella looking for a furever home (quite handsome too). The Vet says I am no more than 2 yr, about 65 lbs, and I am ready for a lifetime of love!
I had been living on the streets, covered in tar when I was picked up by Animal Control. I spent some time at the shelter where they gave me a shave and some medical care then the nice folks at SCLRR picked me up.
Wow, do I like living in a home. I know better than to do my business inside, I am a gentleman! I love the other dogs in my foster home we chase & play it is great, except for when they swim. I am not comfortable with that. There are some kitties too they don't want to play with me and sometimes make me run away. I like having a yard to roam around in & will happily spend time outside with the other dogs. I am not a fan of the kennel but understand sometimes I got to go in. I want to sleep though near my humans or relaxing in the sunshine.
I am not perfect, I know, but I can get there. I have to admit the first couple of days I dug a hole & chewed up a dog bed but since then I have been a perfect gentleman. I am seeking a longterm relationship- long walks, cozy nights on the couch & a foodie. I need to put on a couple or more pounds.
I would like to be adopted to a family that has another dog as well. I like playing or just hanging around my doggie friends.
If you are interested in my wonderful self, please call your family rep ASAP.
---
If you are interested in making this Lab part of your family, please contact your SCLRR family representative. If you have not yet applied with us, please submit an online application to adopt; an SCLRR volunteer will then contact you. Please note that your homecheck must be approved in order for you to be put in touch with
the dog's foster home.