Benn
Summary: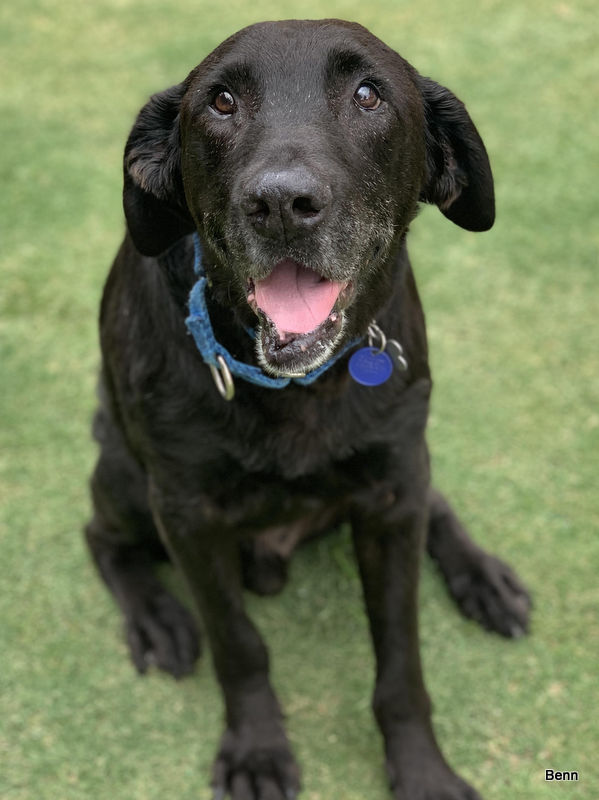 Taken in: 2020-04-16
More detail:
2020-06-29: Hi! My name is Benn and I am about 8 years old. I weigh about 75 lbs. I am a medium energy guy who loves going on walks and just hanging out. I am a mellow boy with a capital M! When I was first brought to my foster mom I was underweight and not in the best shape, but I have been brought back to a normal weight.
I have been rescued from a local shelter. Since with SCLRR, I had blood work done, dental, X-rays, heartworm testing (negative) and several exams. I have been diagnosed with arthritis and thyroid issues so I will need to be on thyroid meds, anti-inflammatories and joint supplements for the rest of my life.
I love my daily walks my foster mom takes me on, and I have gotten pretty good at not pulling at my leash too much – my foster mom thinks I may need a little bit of a stronger handler as I still pull a little bit at the beginning of my walks or if I see a lizard, but it's just because I am so excited to be out and about. While sometimes I get excited when I see other pets, but most of the time I prefer to mind my own business. Occasionally my foster mom will let me off the leash in a nearby field and I love to trot around and play and I don't run far off.
I'm a talkative boy. I don't bark (unless there's a trash truck or leaf blower near the house), I do moan and groan to talk to my foster mom. She often tells me that I am a great dog to have in her home and have really great house manners. Sometimes I like to find dark corners to sit in, but my foster mom has figured out my favorite spots! I have a pretty large backyard right now and I love to lay outside too and soak up the sun. I am not interested at all in the pool. I fell once and could not wait to get out quicker.
I don't have the toy obsession that my other lab friends have, but I love to roll on the grass and get good belly rubs. My favorite part of the day is my nighttime walk. My foster mom says I get the sunset squiggles.
I was introduced to a crate, but I really didn't like much and really prefer sleeping on my bed close to my people anyways. I get up to stretch my legs a bit at night, but am happy to sleep in with you.
While it's okay to leave me at home alone for short periods of time, I much prefer to be around my people. My foster mom takes me to work with her when she has to be away from home all day, and while I would rather we both be at home, I much prefer to be at her side! I'm really good in the car. I need a ramp for taller cars, but I settle in quickly for a nap.
I think I would do best with a family that has no other pets. While I don't mind being around my foster mom's neighbor's dogs, I don't particularly enjoy it either. While she hasn't seen me interact with other pets like cats, she doesn't think I would get along great with them either.
I have been with my foster mom for a couple months but now I am ready to settle down in my forever home. Will yours be mine? If you are interested in meeting me, please contact your family rep.
---
If you are interested in making this Lab part of your family, please contact your SCLRR family representative. If you have not yet applied with us, please submit an online application to adopt; an SCLRR volunteer will then contact you. Please note that your homecheck must be approved in order for you to be put in touch with
the dog's foster home.