Benn
Summary: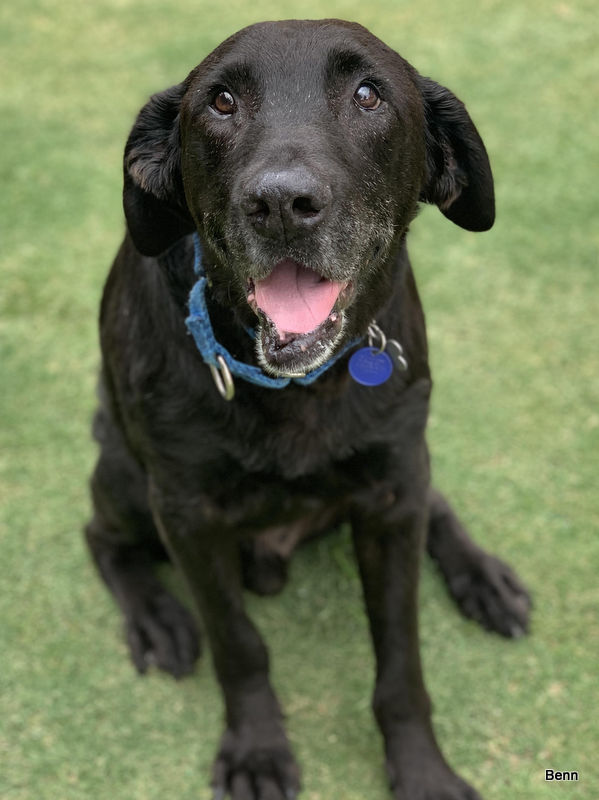 Taken in: 2020-04-16
More detail:
2021-05-14: Benn is black Lab mix and is about 10 years old. He is a medium energy pup who loves going on walks and just hanging out. His favorite things are his daily walks, a snack, and belly and ear scratches from his favorite people.
He likes to play with a ball when he's feeling frisky, but doesn't care much for toys. Most of his day is spent with his foster mom and would love to be in a house with someone who's home a lot. He does have some separation anxiety and would like a home where someone is there most of the day. He's quite chatty! He squeaks and moans all day talking to his people. He gets a bit protective of his space and loudly barks when there are trucks or gardeners. It seems he would do best in a home where he is the only animal. Due to his past, he doesn't do well if he feels threatened by a hyper or overly inquisitive dog and has a bit of leash and kennel aggression. He is happiest laying by the couch with all of his people's attention.
Despite being a sweet guy, Benn does come with some issues and will need a specific home to take care of him. He came to SCLRR by way of a shelter and not much is known about his medical history. He has pretty bad arthritis in his spine and has a hard time lifting his head all the way up. The doctor said he probably has spinal nerve damage. Even though it is a permanent condition, it's manageable with medicine. He is currently on Galliprant ($132/month). In the time he has been in foster care he has needed oral and knee surgery. He's had 16 teeth removed and a ligament surgery (TPLO). His mouth healed beautifully – just a bit of a crooked smile now. His knee healed and he walks just fine but it has abscessed in the past (maybe a bit of suture making its way out?) and needed a second surgery to remove the plate. It is all good now as he healed well from both surgeries. He's also on daily medicines for a thyroid condition (about $50.00/month) as well as joint supplements ($40.00/month) and a probiotic for his sensitive tummy. He also has skin allergies and needs to have a Cytopoint shot once in a while ($109.00). He is a bit of a special case, but a very sweet older guy.
If you are interested in meeting me, please contact your family rep.
---
If you are interested in making this Lab part of your family, please contact your SCLRR family representative. If you have not yet applied with us, please submit an online application to adopt; an SCLRR volunteer will then contact you. Please note that your homecheck must be approved in order for you to be put in touch with
the dog's foster home.