Molly Sue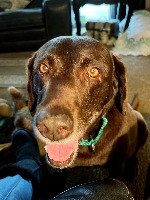 2021-12-16: Living outside, chained to a tree, Molly Sue lived a sad and lonely life. No grass, just dirt, bricks and an old, broken down dog house. A 'yard guard dog' is what she was called. And to make matters worse, a big storm was coming. Thanks to the quick response from SCLRR volunteers who dropped everything when they heard her plight, Molly Sue was rescued before even a drop of rain hit the ground. That night she slept in a warm, cozy home and felt loved possibly for the first time. Sadly, her previous owner said he had never wanted 'this dog' . . . and she was treated like it.
Molly Sue's first full day with us was filled with a Dr. visit, blood work, vaccinations and a well-deserved spa day. Her nails were extremely long that it was painful to walk. Even after living in these awful conditions, she gives kisses freely and is learning to accept affection. It is going to take a bit for her to heal both emotionally as well as physically. Everything is new to her and very frightening. But with some love and TLC we are certain Molly Sue is going to have a great life from now on.
Will you help us get her to that place? She needs dental work because her teeth are worn down to the root from chewing at the chain, and she has several growths and lumps which will need to be removed and biopsied.
At 11 years old this sweet girl still has the true heart of a Labrador and hasn't complained about anything. She is just grateful for the help. Banding together to help Molly Sue this season has reminded the volunteers at SCLRR that it's a gift to be able to help the forgotten and abandoned. Will you join us? Her procedures will likely cost $2,000+ and any help you can provide will surely put you on her team of Christmas angels.
Ways to donate:
Venmo: @SCLRR-SoCalLabRescue
Website: https://www.sclrr.org/rescue/donate-now/
Paypal: sclrr@sclrr.org
Check in the mail: SCLRR – 24325 Crenshaw Blvd.#137, Torrance, CA 90505
We are always so grateful for your support. Thank you!!!
Before
After my spa treatment:
---
Please help support this senior Lab's recovery by making a contribution in her name to our Senior Lab Rescue Program Fund. SCLRR started this fund as a resource devoted exclusively toward the rescue, rehabilitation and unexpected medical care of our older foster dogs. Your financial support is essential in providing these deserving Labs with a second chance at life with a loving family. The Senior Lab Rescue Program Fund is dependent on your donations. We are a federally recognized non-profit tax exempt group. Any donations to us, whether to SCLRR or to SCLRR'S Senior Lab Rescue Program Fund, are tax deductible.