Scooby Dooby Doo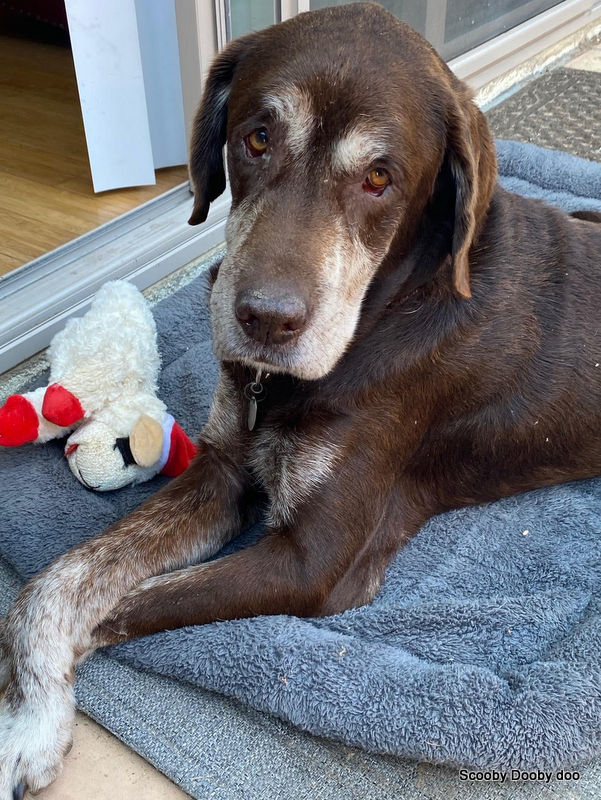 2020-10-06: As a jogger wound his way through the trails in Santa Barbara, he was surprised to see a large dog lying in a ditch. Emaciated, weak and looking worse for wear, the Good Samaritan knew the dog couldn't survive much longer. So, he immediately called for help at the local shelter and hoped for the best.
Not long after, SCLRR bailed him out, named him Scooby Dooby Doo and the rest is history. Today Scooby is recovering in a wonderful foster home filled with belly rubs and yummy treats. After all a dog named Scooby has to love a good snack! Since his dramatic rescue, this 10 -year-old sweetheart, has thrived, put on some weight, and is getting stronger with regular walks and exercise.
For a guy with such a difficult background, it might be surprising that Scooby loves everyone and everything. Among his favorites are short walks, riding in the car, rolling in the grass, and sleeping in whatever room his foster mom is in.
Scooby has been seen by our vets twice, had blood work done, has been treated for yeast infections, and ear infections. Now that he has regained his strength and health, we can proceed with having several warts removed from his back, along with a dental cleaning and extraction of his abscessed teeth. The warts are large, and unsightly, and create an irritation for him. The vet does not believe they are cancerous, but do recommend they be removed and looked at.
The estimate for the surgery and the dental extractions is $1500. It is more than we initially thought. Add this to his previous care for his pre-surgery exams, blood work, treatments for skin and ears we really need some help to move ahead. Can you donate a little bit to SCLRR to help offset his expenses? It's only through the donation of friends like you that SCLRR can rescue other dogs like him and give them the life they deserve.
Your donation of any amount is greatly appreciated. Scooby (and all of the volunteers at SCLRR) are grateful for your support and well wishes. So, please give today, here on Facebook or visit SCLRR.org to donate through PayPal or mail a donation to us at SCLRR – 24325 Crenshaw Blvd #137, Torrance, CA 90505.
---
Please help support this senior Lab's recovery by making a contribution in his name to our Senior Lab Rescue Program Fund. SCLRR started this fund as a resource devoted exclusively toward the rescue, rehabilitation and unexpected medical care of our older foster dogs. Your financial support is essential in providing these deserving Labs with a second chance at life with a loving family. The Senior Lab Rescue Program Fund is dependent on your donations. We are a federally recognized non-profit tax exempt group. Any donations to us, whether to SCLRR or to SCLRR'S Senior Lab Rescue Program Fund, are tax deductible.