Nudge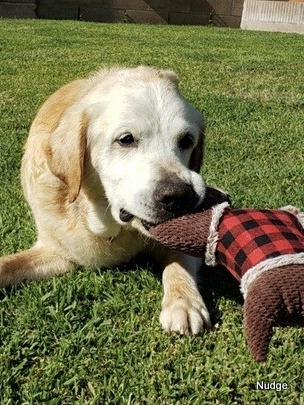 2020-05-04: Hi, I'm called "Nudge." While COVID-19 has been hard on humans, it's been a bit better for dogs. It seems everyone is looking for four-legged love and acceptance during these crazy times. That's great because shelters are pretty empty… except for the old guys like me.
I'm a 12 yr. old boy. I understand that most people are reluctant to take older dogs. We do have more medical bills and we aren't as playful as the young guys… but if it's love you are looking for, we seniors are the best.
Luckily my friends at SCLRR know this. So, when a volunteer saw me at the East Valley Animal shelter, she made an appointment and bailed me out. My story is kind of sad and confusing, but most people think I was dumped on the streets because my arthritis is so painful that I can barely walk.
When my foster mom came to get me, I could hardly walk to the car. I would walk a few feet then fall down. Then I'd take some deep breaths for a few minutes and try to get going again. Sometimes I can get up on my own, sometimes I need a little help.
Don't worry about me though, I saw a really great veterinarian today. She gave me an exam, full blood work (including a T4 thyroid test), and a urinalysis. I'm going to get Adequan shots for four weeks. I'll also be on anti-inflammatory medicine and joint supplements for the rest of my life.
With a good diet and lots of love, my foster mom thinks I'm going to feel much better. To tell the truth, I'm already feeling much better because my foster mom is spoiling me rotten and I LOVE every bit of it. I may be old and slow, but I'm the best at loving my people! I can cuddle for hours and then nudge you for more (are you getting the idea of where my name came from?). 🙂
Once I will feel better SCLRR plans to have a skin growth removed from the top of my head, and also to have a good dental cleaning, as my teeth are in really bad shape.
If you can, will you consider helping SCLRR with some of the expenses that I've incurred? There are more 'distinguished' dogs at the shelter, and I'd love for them to be able to help others, too. Thanks, in advance, for any bit you can spare.
With lots of wet doggy kisses,
Nudge (aka the love muffin)
---
Please help support this senior Lab's recovery by making a contribution in his name to our Senior Lab Rescue Program Fund. SCLRR started this fund as a resource devoted exclusively toward the rescue, rehabilitation and unexpected medical care of our older foster dogs. Your financial support is essential in providing these deserving Labs with a second chance at life with a loving family. The Senior Lab Rescue Program Fund is dependent on your donations. We are a federally recognized non-profit tax exempt group. Any donations to us, whether to SCLRR or to SCLRR'S Senior Lab Rescue Program Fund, are tax deductible.