Beauty May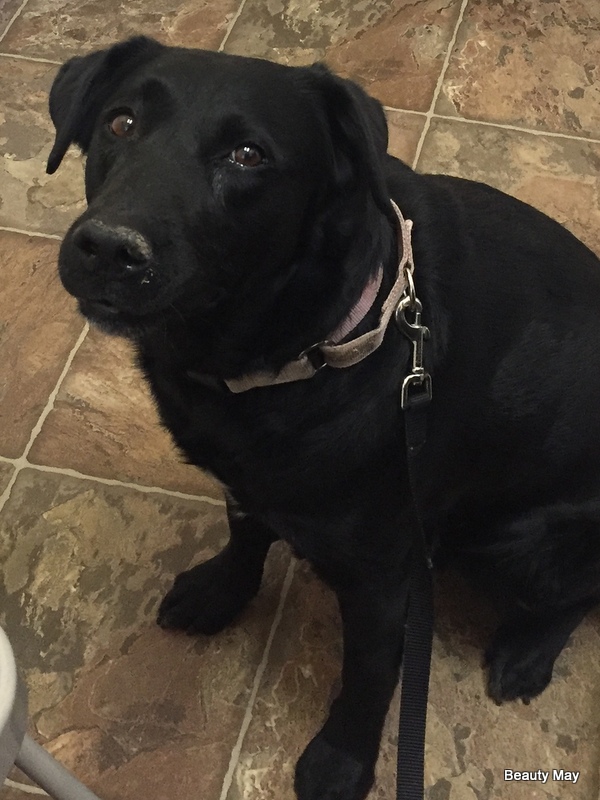 2020-06-27: Hi, I'm Beauty May and I really need your help. It's hard to believe, but at seven-years old my owner went on hospice and her daughter decided to turn me into a shelter. Just imagine – a senior black dog, with trouble breathing ending up in the shelter. Luckily a loving SCLRR volunteer found me and SAVED me.
Everything seemed perfect, but soon my foster family noticed that I was having trouble breathing. I was having a lot of discharge coming from my nose and a horrible cough that would basically take my breath away, especially at night. The cough would last for a long time and I was exhausted after that. It woke up my foster parents every night but they didn't mind, they just wanted to help me feel better.
After a couple vets visits, I was referred to a specialist and had X-rays that showed that one of my lungs was not functioning properly – it was not inflating like it should be. They originally thought it might be Valley Fever but I tested negative for that.
Then they started a treatment with some very expensive antibiotics called Baytril and Clavamox, an oral bronchodilator Theophylline and my foster mom had to use a nebulizer with saline several times a day. Every 2 weeks I would go for a recheck and X-rays, I've done this for 4 months already! The X-rays show my lungs improved over 50% but I still have the cough and discharge that is not going away.
At my last appointment last week, they said there is a procedure that would give us more answers – a bronchoscopy. The bronchoscopy is an invasive procedure that goes into my lungs and investigates. They will take samples from my lung tissue so they can see if there is any bacterial infection and if it's resistant to the antibiotics I'm taking. Them they will inject some substance inside my lungs and aspirate it out.
I would also need a Rhinoscopy for the nasal discharge to identify why I have so much mucus. Of course, all of these tests sound extremely scary for me but it's so hard to breathe when that cough happens, that I really need to get better.
Here's where you come in. Sadly, these procedures come with a huge price tag, the estimate for both procedures is $6,082.04. I feel guilty just saying that.
So, can you help my good friends at SCLRR cover the cost?
They really are wonderful, and treat me like a queen. My foster family really loves me and they keep telling me how sweet I am. So, anything you can do to help them, help me and other dogs in need would be greatly appreciated. You can donate here or visit our SCLRR.org to donate through PayPal or mail a donation to us at SCLRR – 24325 Crenshaw Blvd #137, Torrance, CA 90505.
Thank you in advance for becoming part of my team of angels.
---
Please help support this senior Lab's recovery by making a contribution in her name to our Senior Lab Rescue Program Fund. SCLRR started this fund as a resource devoted exclusively toward the rescue, rehabilitation and unexpected medical care of our older foster dogs. Your financial support is essential in providing these deserving Labs with a second chance at life with a loving family. The Senior Lab Rescue Program Fund is dependent on your donations. We are a federally recognized non-profit tax exempt group. Any donations to us, whether to SCLRR or to SCLRR'S Senior Lab Rescue Program Fund, are tax deductible.