Sandy Mae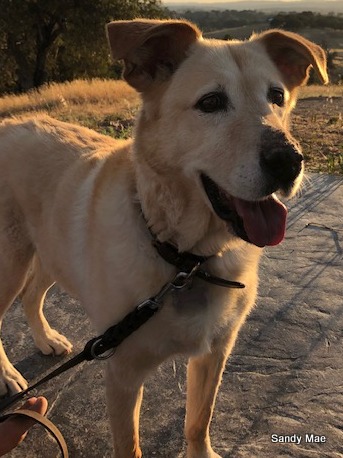 2018-02-01: We rescued Sandy Mae on 01/19/2018 from a very high kill shelter in North LA – Lancaster. The vet we took her to informed us that she has an autoimmune disease and we need to consult a specialist dermatologist. They had to put her under anesthesia so they can take samples of her skin from multiple sites and do biopsies, cytology, and fungal testing. The bill for this visit and testing is $1,181.58.
We need your support collecting the funds that we spent for her care. We are at $2,000+ now. Please help us help Sandy Mae if you can. Any small amount you can spare to help Sandy Mae is much appreciated. Thank you.
2018-02-08 Update:Sandy Mae is feeling a little better. The dermatologist office called that she tested positive for ringworm. Thank you SO MUCH to everyone that made a donation toward this sweet girl's care. We are very close to our goal now and REALLY appreciate your help and support.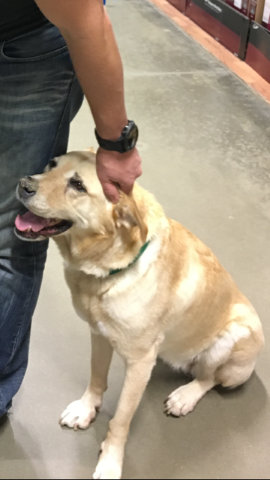 2018-02-12 Sandy got her biopsy results back and she was diagnosed with pemphigus foliaceus, which is one of the most common autoimmune diseases in dogs. Sandy is making slow progress and her eyes and paws are getting better. Her nose looks still rough but she is not limping anymore. Sandy loves walks and likes to hunt squirrels and all other small critters.
2018-05-05 Sandy Mae had another visit with the dermatologist. They are impressed by her progress. Her nose is looking so much better than before. If all stays well we are going to be able to reduce her dose of meds again in few weeks.
2018-10-27 Sandy Mae has been with us for a long time already (since 01/19/2018). She has been diagnosed with autoimmune skin disease shortly after we got her. She gets better for 1-2 months then again she is having a flare again and again. She is currently on a steroid medication that she will need to stay on for the rest of her life. At the last visit with the dermatologist they also put her on an allergy medication as her entire belly broke down in hives. We decided to keep her as a permanent foster for the rest of her life. She is about 9-10 yrs old now. Long use of steroids cause liver issues but she is on supplements to support her liver. She is happy in her foster home and we are thankful to the foster family for willing to keep her as a permanent foster.
2019-12-09 Sweet Sandy Mae needs your help.
SCLRR rescued Sandy Mae from Lancaster shelter back in January 2018. She was 9 yrs old at the time. We tried everything possible to make her feel better as she had severe skin issues when we rescued her missing hair, raw skin patches on her ears, eyes, nose, and paws. In a nutshell, it looked like something was eating her skin.
After multiple tests and biopsies at the Animal Dermatology Clinic, she was diagnosed with an auto-immune skin disease called pemphigus foliaceus. Sounds horrible doesn't it? Her foster parents have worked really hard on taking her to all of her dermatologist appointments, giving her the meds & supplements, as well as the right food to help her heal. The good news is for the most part it has worked. Sandy still has flares up once in a while but we know how to adjust the meds and supplements now. Because of this serious medical condition, Sandy Mae was placed in a long term/permanent foster home and continues to thrive with the love she is given there.
That said, the cost of her medication, Dr. visits, supplements and special food, costs SLCRR about $2000/year.
Unfortunately, there is more. Recently Sandy Mae stopped using her left hind leg completely. It is obvious she is in lot of pain and her Dr. diagnosed her with a ACL rupture and she now needs surgery to repair the leg.
The cost for this surgery (TPLO) is $4,500. While Sandy Mae has already cost SCLRR quite a bit of money, our main concern is that she is comfortable and able live a long and happy life.
But we need your help. We cannot turn our backs on Sandy Mae, and we hope you can't either. She deserves a pain-free life. But we need help to afford her care. Fortunately, she is very loved and cared by her foster parents and has a place to call home for as long as she needs one. And, with expert care to nurse back to health once again, we're sure she'll be her happy, bouncy self very soon.
Will you help us with Sandy Mae? Your donation today will go directly to her care. Any amount will be helpful and every gift makes a big difference.
---
Please help support this senior Lab's recovery by making a contribution in her name to our Senior Lab Rescue Program Fund. SCLRR started this fund as a resource devoted exclusively toward the rescue, rehabilitation and unexpected medical care of our older foster dogs. Your financial support is essential in providing these deserving Labs with a second chance at life with a loving family. The Senior Lab Rescue Program Fund is dependent on your donations. We are a federally recognized non-profit tax exempt group. Any donations to us, whether to SCLRR or to SCLRR'S Senior Lab Rescue Program Fund, are tax deductible.