Gabriel Boy
Summary: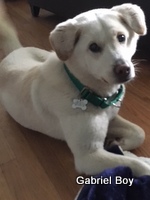 Taken in: 2018-02-11
More detail:
2018-02-23: Hi everyone!!! My name is Gabriel. I am 2 yrs old petite Lab mix and I weigh 41 lbs. I just arrived from Korea 2 weeks ago. My life hasn't been easy before arriving to America but I put it all behind me now and I am ready to live the good life.
I am lovable, sweet and gentle dog. I absolutely love to give kisses all the time because I am so grateful for my new life. I love to run and follow my foster mom around the pool. I am learning what 'come here' means. I also like to relax in the sun with my foster mom. I try to play with my foster brother but he really doesn't pay attention to me. I am always happy and wagging my tail. I am always happy to see my adult humans.
Here are a few thing that you should know about me. I am a little skittish since I've lived most of my life in a kennel in Korea. I love adult people and I am friendly with other dogs. It would be best for me to be placed in a home without children because they scare me with their sudden moves and loud noises. I am now ok being walked on a leash with my foster brother. Two weeks ago I could not walk on a leash and be comfortable. When a car would pass by me, I would immediately lay down with my tail between my legs. I was also scared about getting into a car but my foster dad picked me up to get me in and I was good with that. We are still working on that.
I am housebroken, however I am scared to use the doggie door. The flap really scares me. I don't like going potty before my breakfast but once I eat my meal I would go outside to go potty. Perhaps that is how I was trained in Korea.
I also don't really know the English language yet. I know the word NO, but I cannot understand most other commands. I have been known to chew on some materials for example scarfs, blankets and towels. That is easily corrected by a soft command of 'NO' and a soft blow to my face.
Whoever chooses to adopt me please be aware that I am still a work in progress. I need lots of love, patience and understanding. In return I will give you many years of love, laughter and joy.
With love,
Gabriel
Check out my videos
---
If you are interested in making this Lab part of your family, please contact your SCLRR family representative. If you have not yet applied with us, please submit an online application to adopt; an SCLRR volunteer will then contact you. Please note that your homecheck must be approved in order for you to be put in touch with
the dog's foster home.