Denver Boy
Summary: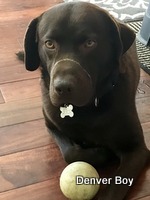 Taken in: 2018-01-22
More detail:
2018-02-04: Hi there!! My name is Denver Boy. My foster mommy calls me Denver and sometimes she calls me Lovey because she says I'm such a sweetie!! I am a chocolate lab, about 6 year old and I weigh 65 lbs. All the girls say that I'm so handsome and that I look much younger! My foster mommy says I'm beautiful, so sweet, healthy, and that I am always on the GO, GO, GO! Literally! I like adventures, bring it on!!!
I came to SCLRR through a local shelter. They found me while I was on my travels. I guess I am sort of a rolling stone so I am going to need an active family who is home quite a bit or can take me with them as much as they can. I get pretty sad when I'm left alone and will need a lot of love to get over this.
I have a discoloration on my muzzle that the vet thinks is permanent, possibly from a lead, rope or being muzzled for an extended amount of time. Don't worry I am over it and I still love people so much! I just want to be loved and I want to play. My foster mommy says I do super on a leash and the other dogs on the trail don't bother me at all even if they are barking hi at me. My foster sister doesn't like to play rough so I just lay close to her and we can hang out when we are alone, but if you have a doggy that likes to play rough like puppies, I would love that! I've never been around a cat but judging by my energy and my constant jumping around, my foster mom says a cat free home is probably best. I also love kids so much that I jump on them, so I'm told I should go to a home that has no kids or older kids so I don't get in trouble knocking them down. I also need extra tough toys…they fall apart when I play with them. My foster mommy says they don't make them like they used to.
Please don't put me in a crate, I don't like that at all. It scares me and I might hurt myself. I only had one accident at my foster mommys house and have been okay since I learned to use the doggie door. I'm pretty smart so learning that took no time at all. I sleep in a doggie bed next to my foster parents and I'm no bother at all.
My foster mommy gives me lots of kisses and says that my forever family will have to continue to work with me on my manners since my curiosity gets the best of me. I like to follow my family everywhere they go and I've been known to do some counter surfing from time to time.
I'm going to miss my foster family but I'm pretty excited to meet my new family and see my new home!
If you are interested in my wonderful self, please let your Family Rep know. Thank you.
Check out my video
---
If you are interested in making this Lab part of your family, please contact your SCLRR family representative. If you have not yet applied with us, please submit an online application to adopt; an SCLRR volunteer will then contact you. Please note that your homecheck must be approved in order for you to be put in touch with
the dog's foster home.