Hot Choco
Summary: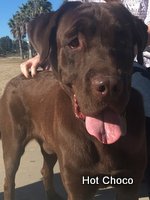 Taken in: 2017-11-10
More detail:
Tall, handsome, 1 year old chocolate labby looking for a furever home.
When I'm not busy playing with my foster brother and our huge assortment of toys, I love to go for casual walks with the foster parents. I tug a little, try to to investigate along the way, but I am working on my leash manners and getting better everyday. Other times you may find me chilling out on the patio or lounging at the foot of the couch…but, I would much rather be out and about, rolling in the grass and short runs.
I just got back from Doggy University training, turns out I'm a pretty good student, but I will need much more study time. Are you a good teacher? I need help with walking, manners, playing well with others (not mean, just big and strong and I need reminders on how to play gently), and my greetings (I can sometimes get a little jumpy when I meet new friends). I would love a big yard, 'cuz I am full of energy. I love my 4 walks per day and have even done a few miles on the run with my foster mom. Super big fan of car rides…just sayin'.
I love my humans and I am a great kisser but I am not much of a snuggler. I still get a little bummed out when they leave for work, but I am learning to be okay with being alone for a little while. I am pretty fond of sleeping on the couch, but it turns out, I'm not really supposed to…again, still learning.
At night, I sleep in my crate, but I have been allowed to sleep where I want. I know to where to go potty, but I am a very early riser and the foster humans aren't big fans of that…so, to the crate I go (not my favorite place though)…unless you have a doggy door?!
As any rather awesome labby, I love to be kept busy but sometimes when I get a little bored, I may start to find new things to chew on. If you don't mind stocking the toys, I wouldn't mind chewing and playing with those instead.
I am a pup in the rough, I really need a furever home with humans that are patient, labby experienced, willing to help me become the great dog that I know I can become.
All furever humans, please let your family rep know that you cannot live without me. A new year with my new home would be amazing! Your chocolate pal, Hot Choco.
2017-12-04:
---
If you are interested in making this Lab part of your family, please contact your SCLRR family representative. If you have not yet applied with us, please submit an online application to adopt; an SCLRR volunteer will then contact you. Please note that your homecheck must be approved in order for you to be put in touch with
the dog's foster home.